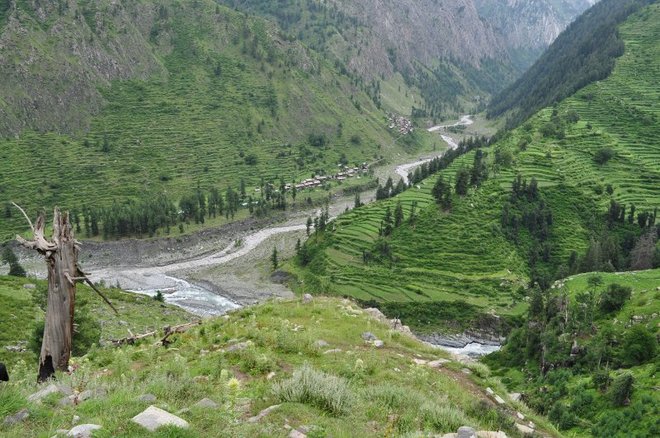 Ravinder Sood
Palampur, July 12
The Bara Bhangal valley of Kangra district has been cut off from rest of the world following a bridge collapse on Hanny Khud.
Portions of the mule path leading to the valley has disappeared following heavy rain and flash floods in the last three days.
A government official said the district administration had sent foodgrains to Bara Bhangal. "As the mule path has caved in, of the 4,000 quintal grains, only 500 quintal could reach the valley," the official said.
He said all efforts were being made to reconstruct the bridge and restore the mule path as the Thamsar Pass, the highest peak on the way to the valley, was likely to be closed after snowfall in September. "The supply has to be delivered before September," the official said. Every year, foodgrains are sent to the Bara Bhangal valley through the 60 km mule path between June 15 and August 31.
Sources said the grain was lying at Bara Gram and Multhan as mules could not move further because of landslides and soil erosion at different places. Carriage contractor, assigned the job for the delivery of food grains at Bara Bhangal, said he had also informed the district authorities that the mule path leading to Bara Bhnagal and bridge on Hanny Khud had washed away and that it would not be possible to move beyond Bara Gram village with mules. Chuni Lal Panchyat pardhans of Bara Bhangal told The Tribune that the bridge and the path had given way. He said if timely action was not taken, over 600 persons living in Bara Bhangal would have to starve in coming months. He said he had apprised the Baijnath SDM of the situation.
Rain fury has trees uprooted, road blocked
Shimla: Heavy rain caused landslides, uprooted trees in several parts of the state in the last 24 hours. The vehicular movement remained disrupted in the interior parts of Shimla, Chamba, Kangra and Kullu. The higher reaches of Lahaul-Spiti and Dodra Kwar witnessed snowfall. Traffic on the Manali-Leh Highway was disrupted after boulders fell at Nehrukund and Raninalla. The water level in major rivers and their tributaries has crossed the danger mark. Residents have been advised not to go near the riverbanks as there are chances of flash floods in lower areas. Nauni in Solan district received 58 mm of rain followed by Shimla and Kasauli 41 mm, Dharampur 38 mm, Solan 35 mm, Nahan 32 mm, Paonta, Dharamsala 26 mm, Jubbarhatti and Manali 25 mm, Bhuntar 23 mm and Jhanjehli 20 mm. — TNS
Top News
Were returning from Amarnath yatra duty
Portfolios allocated: While Nitish keeps home, Tejashwi gets...
Jammu and Kashmir Lt Governor Manoj Sinha has condemned the ...
A prime minister for six years between 1998-2004, Vajpayee d...
The men, who are non-exclusive partners living in the same h...