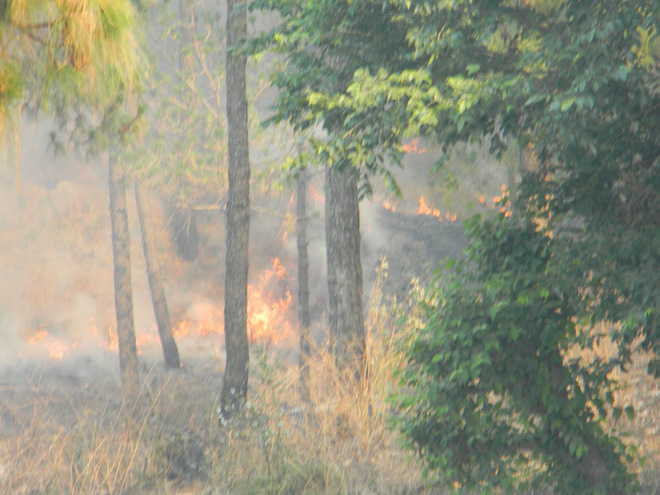 Ambika Sharma
Tribune News Service
Solan, May 26
A massive forest fire erupted in the forest area around the Air Force Station, Kasauli, where a chopper was pressed into service by the defence authorities to douse flames Saturday evening .
The presence of dry pine needles on the forest floor triggered the blaze which spread from Dochi village on the Kimmughat-Chakki-Ka-Mor road to Naam village and Naam Sari village just below the Air Force Station. The defence station was engulfed in thick smoke as another fire broke out in the forest area lying behind the Hanuman Temple at the Monkey Point, making the task arduous for the fire-fighting team.
Keeping in view the exigency of the situation, the forest staff and policemen also rushed to the spot. Four fire tenders from Parwanoo, Kasauli Cantonment and Solan also reached the spot to douse the fire.
Several locals from the villages near the defence area were also seen assisting the fire-fighting operations.
SHO, Kasauli, Nirmal Singh, said an IAF chopper was pressed into service to douse the fire as it was approaching the IAF station.
The fire-fighting operations, which began in the afternoon, were continuing till the filing of the report and fire in about 60 per cent of the area had been controlled though it would take some more time to extinguish it.
DFO, Solan, RS Jaswal, said eight to 10 staffers had been deployed to assist the defence staff. Though a fire, which had erupted at Dochi last evening, was doused around 1:30 pm, the simmering fire on the forest floor was fuelled by strong wind. It spread upwards from Naam and Naam Sari village towards the Air Force Station by evening, putting the defence authorities in a state of high alert.
The chopper made several sorties to refill water from Chandigarh. DFO, Solan, RS Jaswal, also said two labourers were injured last evening while trying to douse flames which had erupted at a Sanawar village. Resorts lying on the Kimmughat-Chakki-Ka-Mor road were also threatened by the forest fire. The resort staff rued that despite calling the fire station at Parwanoo, no help had been received initially and it assumed an alarming proportion by evening.
An arduous task
The presence of dry pine needles on the forest floor triggered the blaze which spread from Dochi village on the Kimmughat-Chakki-Ka-Mor road to Naam village and Naam Sari village just below the Air Force Station. The defence station was engulfed in thick smoke as another fire broke out in the forest area lying behind the Hanuman Temple on the Monkey Point, making the task arduous for the fire-fighting team