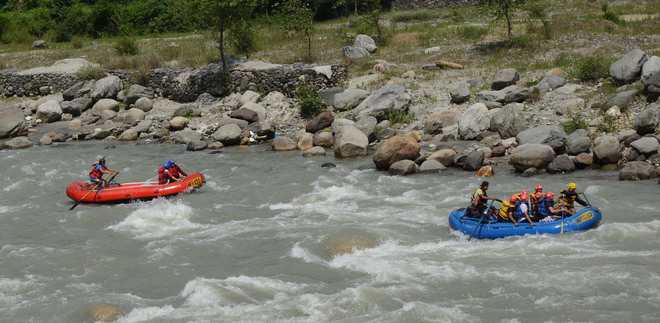 Dipender Manta
Tribune News Service
Mandi, September 17
The state government is geared up to rejuvenate the Sutlej, Chenab and Beas and planning to reduce pollution levels, soil erosion, illegal mining and waste dumping.
At a meeting in Kaza today, Additional District Magistrate Gyan Sagar Negi and officials of the Himalayan Forest Research Institute, Shimla, discussed the issue.
In the first phase, the DPR of the Sutlej would be prepared, for which this consultative meeting was held in Kaza.
Scientists expressed concern over the state of rivers. They said there was a need to take quick measures to protect the water bodies. It was observed that due to increasing human activity near the rivers, the pollution levels had assumed alarming proportions.
Illegal mining, direct dumping of waste and soil erosion have disturbed the ecology of these rivers.
The Beas water has turned muddy due to the four-laning work between Mandi and Kullu-Manali. At many points, the construction material is dumped into the river.
Due to poor garbage disposal in Kullu district, tonnes of garbage is being dumped directly into the Beas from the Manali and Manikaran side.
The situation is no better in Lahaul-Spiti and Sutlej basin. The authorities are mum over the issue because a majority of offenders are associated with politicians.
Additional District Magistrate Gyan Sagar Negi said the state government was planning to rejuvenate these rivers on the lines of Ganga, which was a dream project of Prime Minister Narendra Modi. Officials of the Irrigation and Public Health Department, Public Works Department, Horticulture, Agriculture and Tourism were also present at the meeting.
Top News
Jammu and Kashmir Lieutenant Governor Manoj Sinha and politi...
Cops say case cracked within three days with the arrest of a...
Indonesia football association suspends league to investigat...
Samajwadi Party patron is under treatment in Gurugram hospit...
DGP dismisses Mansa CIA Incharge, FIR registered against err...