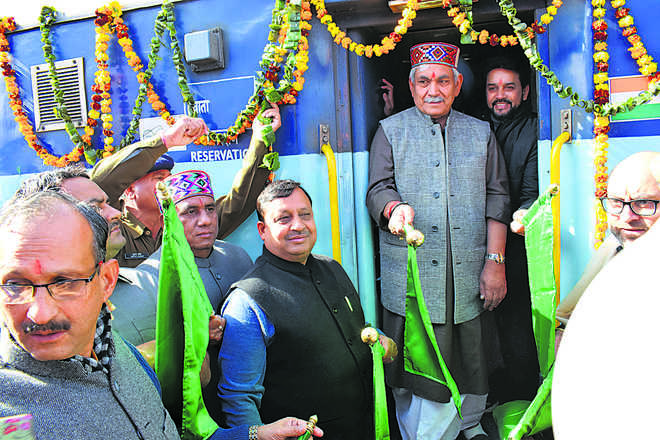 Our Correspondent
Una, January 15
Minister of State for Railways Manoj Sinha on Tuesday dedicated the 16-km broad gauge rail line section between Amb-Andaura and Daulatpur Chowk in Una district.
He also gave the green signal to the daily Himachal Express train, which at present runs between Delhi and Amb-Andaura, but will now run between Delhi and Daulatpur Chowk.
The minister also dedicated the extension work of the Una and Amb-Andaura stations, besides a waiting room for passengers with second-class tickets at the Una station. He laid the foundation stones of the electrification of Amb-Andaura to Daulatpur Chowk rail line and two foot overbridges at Amb-Andaura and Una stations.
Lok Sabha MP from Hamirpur segment Anurag Thakur, Himachal Pradesh Rural Development Minister Virender Kanwar, BJP state president Satpal Singh Satti, Chintpurni MLA Balbir Chaudhary and Gagret MLA Rajesh Thakur accompanied Sinha.
Addressing a public gathering, he said a sum of Rs 335 crore had been spent on the rail section.
Tenders for works estimated at Rs 200 crore would be passed during the next two months for extending the track, 29 km further to Mukerian, where it would link the Jalandhar-Jammu broad gauge line.
The minister said while it took 27 years for the construction of the 58-km track from Nangal to Daulatpur Chowk, the ministry had set a target of completing the remaining 29-km track by 2022 so that the track was dedicated to the people before the 75th Independence Day.
The Railway Minister said the final location survey and a detailed project report for the Una-Hamirpur rail line was ready and work would be started soon. He added that the final location survey for the Amb-Andaura to Hoshiarpur rail line would be finalised by the end of this month.
Sinha said after Independence, the speed of investment in the Railways sector did not match the increase in passengers and freight. The annual investment for the expansion of Railways in Himachal during the UPA regime was Rs 108 crore, which had been hiked to Rs 335 crore during the NDA regime.
Earlier, in his address, Anurag Thakur said the expansion of rail network would lead to development. He urged Sinha to allocate funds for the Una-Hamirpur and Amb-Andaura to Hoshiarpur rail lines, adding that work on the Bhanupali-Bilaspur rail line had also been initiated.