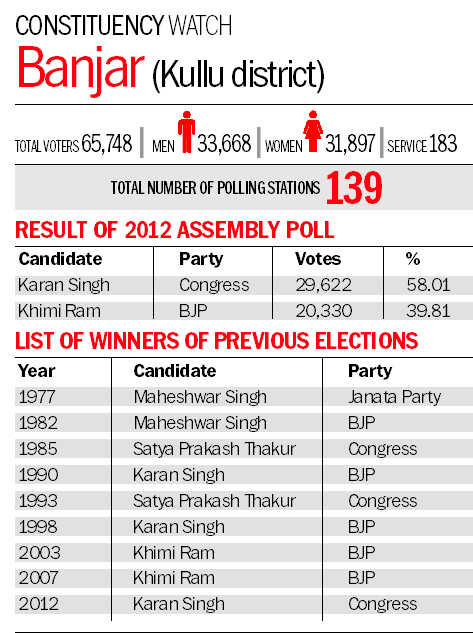 Forced to jump into the political arena on the sudden demise of his father and former Ayurveda Minister Karan Singh in May this year, Aditya Vikram Singh (32) of the Congress is banking on the twin factors of sympathy and his own rapport with the voters of Banjar constituency.
As has been the case in the past, the fight will be between the Congress and the BJP, which has fielded Surinder Shourie (36), a zila parishad member.
Despite being an energetic youth leader having a good connect with the masses, it is the virtual rebellion in the Banjar BJP over his candidature
that poses the biggest challenge for Shourie.
Though former BJP MLA and state BJP ex-president Khimi Ram, who has been denied party ticket, did not enter the fray as an Independent, he is unlikely to support Shourie. As such, the threat of undercutting of BJP votes by Khimi's supporters looms large.
Shourie has been seeking votes citing his being "dharti putra" (son of the soil) and Aditya Vikram an "outsider".
The Congress has the advantage that Karan Singh was widely respected and enjoyed impeccable image in the area as a scion of the erstwhile Kullu royal family. The residents still remember him as a leader who was down to earth and his son, too, seems to be following in his father's footsteps. Karan Singh's wife Shivani Singh is extensively campaigning in the area, seeking votes for her son. The fact that Karan had won as a BJP candidate and later on the Congress ticket speaks volumes about his personal rapport with the people.
Much to the BJP's chagrin, another faction of the party represented by Kullu zila parishad chairperson Rohini Chaudhary was also opposed to Shourie's candidature, a fact that is bound to dampen the party's prospects.
Though a lot of work has been done in the area in education and health
sectors, the damage that power projects have done to the ecology and rising unemployment are key poll issues. The locals point out that only a handful of close associates of influential people of the area have benefitted from various projects. Tourism, they say, did not get the required impetus and road connectivity in many rural areas is quite poor. — Abhinav Vashisht
Poor road network
Locals say only a handful of close associates of influential people have benefitted from various projects. Road connectivity too is quite poor.