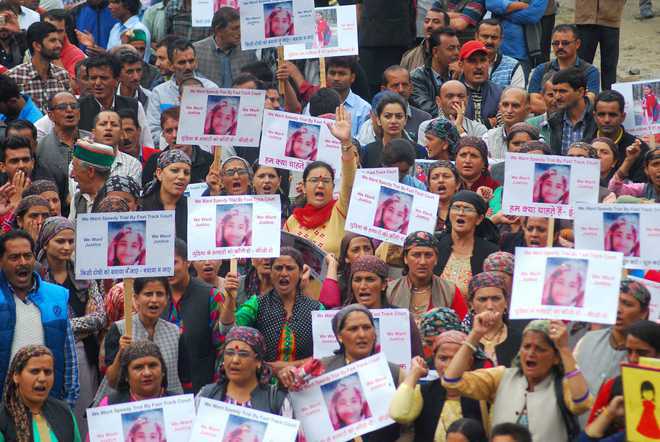 New Delhi, August 18
The CBI has moved an application for conducting lie detector tests on those arrested in connection with the sensational rape and killing of a minor girl in Kotkhai area of Shimla in Himachal Pradesh.
The CBI sources said here the agency wanted to conduct polygraph tests on the accused as their statements were inconsistent.
The accused, including Ashish Chauhan, the first one to be arrested in the case, would be subjected to the test after attaining their consent, they said.
---
Read: Himachal govt orders CBI probe into Kotkhai rape, murder case
6 arrested in gang-rape, murder of Kotkhai schoolgirl
Clamour for justice to rape victim gets louder
Kotkhai rape: Suspect murdered in jail; mob sets police station, vehicles on fire
---
According to the law, the test is conducted only after getting an approval from an individual. In case an accused declines to give permission, it goes against him or her in the court of law.

Meanwhile, the agency has examined over 100 people in connection with the rape and killing that triggered massive public outrage against the state government, the sources said.

Among those quizzed by the Central probe agency were kin of some influential officials of the state government, they said.

The case was handed over to the CBI by the Himachal Pradesh High Court on July 19 on the state government's plea amid public outburst against the state police. The CBI filed two FIRs on July 22.

The 16-year-old girl had gone missing after school hours on July 4 from Haliala forest in Kotkhai area of Shimla district.

Her naked body was found in the forest on July 6 and the post-mortem report confirmed rape.

The DGP constituted the SIT headed by an officer of IG rank, which arrested six persons. One of the accused was killed in police custody in Kotkhai Police Station.

The CBI had also registered the case of custodial death of one of the suspects who was a Nepalese citizen, it said. PTI