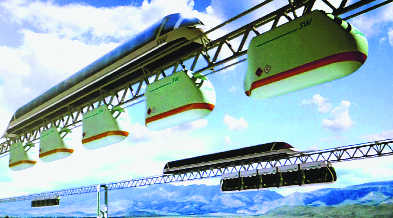 Lalit Mohan
Tribune News Service
Dharamsala, May 13
The Skyway project that Minister for Urban Development Sudhir Sharma proposed for Dharamsala has become a subject of political discussion. Senior BJP leader Kishan Kapoor raised questions about the feasibility of the project.
Sudhir Sharma, talking to The Tribune, termed the criticism of the project baseless. He said Telengana and Jharkhand were moving ahead to implement the project. They had sought funds from the Centre.
However, the Himachal Government had just signed a memorandum of understanding with the Belarus company to conduct the study for the project in Dharamsala.
The government had not paid anything to the company. The company was carrying out the feasibility study of the project at its own cost.
The company has planned a 15 km skyway project in Dharamsala. The cost of the project would be around Rs 34 crore per km. It means that the company would have to make an investment of about Rs 500 crore for the project.
When asked, the minister said the company had been given one year to complete the feasibility report. If report was accepted, the government would provide land to the company while the entire investment would be made by the company that would run the skyway on the Build Operate and Transfer (BOT) basis, he said.
When asked about how the project involving an investment of about Rs 500 crore be viable in a small city having a population of just about 50,000, he said the company was relying on heavy influx of tourists to Dharamsala. It had calculated that the cost of Rs 60 for 15 km journey on skyway transport would make their project viable. It would be able to implement the project in two years as a little concrete construction was involved in it. Mostly the ropeway would be constructed over steel girders, the minister said.
The minister also said since most of the roads in Dharamsala could not be widened due to forest permissions and old constructions, solutions like skyway project were the only solution for future.
Top News
Wearing of masks must in all educational institutions, gover...
Media report says initial assessment indicates 24-year-old m...
According to Rushdie's agent Andrew Wylie, nerves in his arm...
The exercise is scheduled to be held at Manesar in Haryana i...
State government issues notification, move expected to save ...