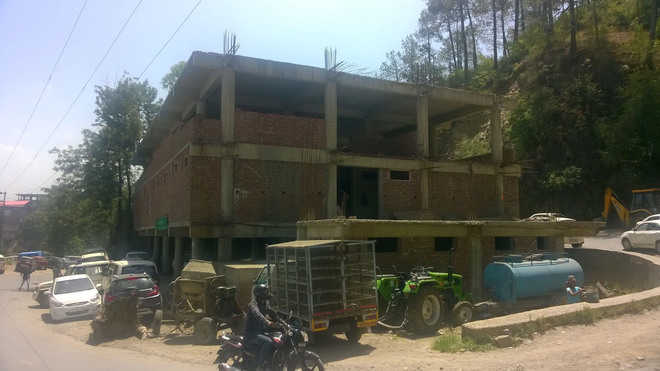 harinder@tribunemail.com
There is a correlation between the width of a road and height of a building along the road. That's why only single or double-storey buildings were constructed during the British time. The multi-storey buildings along the narrow roads are a major traffic hazard as the road has no capacity to accommodate vehicles of the people residing in those buildings. There is no provision in the Town and Country Planning Act to allow construction of multi-storey buildings as per the width of the approach roads. People are engaged in unauthorised constructions as they are confident that the government will bail them out by bringing retention policies.
HS Lidder, Summer Hill, Shimla
---
MC must find alternative to dustbins
Municipal Committee officials in Solan district have begun door-to-door collection of garbage. Waste dustbins, which were often found littered with garbage, are no longer seen in the town. No dustbins are either found on the Parwanoo-Shimla national highway. As a responsible tourist it becomes difficult for me to throw eatables' wrappers callously anywhere along the hillside. The move to do away with dustbins is laudable but there should be some solution to dispose of the litter on the highways and in Solan town. Staff of several private offices also find it difficult to dispose of the daily garbage as no one is seen collecting the garbage during office hours.
Sunil Kumar, Solan
---
Drunk men a nuisance at Shimla sabzi mandi
The manner in which people keep lying in a drunken state near the liquor vend in sabzi mandi alongside the road is nauseating for passersby. We don't have a problem in liquor being sold and people buying it, but it becomes a public nuisance when people get heavily drunk and are seen lying on the road. It becomes even more difficult for women who come to the mandi to buy vegetables. There are times when people under the influence of liquor keep talking loudly and pass comments on those passing by. Seeing them in such a bad state, people avoid that area and the business of shopkeepers is affected. The police must ensure that the area is free of such drunkards.
Anil Sharma, Chakkar, Shimla
---
Is a civic issue bothering you? Are you agitated over the lack of concern? Is there something heartening that you feel needs to be highlighted? Or a picture which in your opinion ought to be seen by many, and not just you?
The Tribune invites its readers to have their say. Please email at: hpreadersfeedback@tribunemail.com
Top Stories
Cities