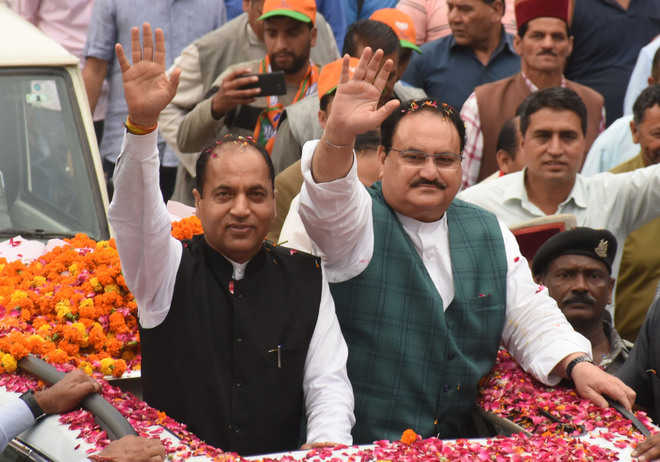 Dipender Manta
Tribune News Service
Mandi, October 9
BJP national working president JP Nadda today said that except the saffron party, all regional and national parties were promoting dynastic politics in the country.
He was on a maiden visit to the state after assuming charge as the party's national working president. In Mandi, he was accompanied by Chief Minister Jai Ram Thakur, former Chief Minister Shanta Kumar, BJP state chief Satpal Singh Satti and MP Ram Swaroop Sharma.
"With 17 crore members, a rise from the earlier 11 crore, the BJP is the world's largest party. It is a party of workers, which gives an opportunity to everyone, including those at the grassroots, to reach the top. Prime Minister Narendra Modi, Home Minister Amit Shah, Defence Minister Rajnath Singh and Finance Minister Nirmala Sitharaman were common workers of the party from simple background but rose to the highest political level with their dedication," he said.
He said it was a golden period for the BJP in Himachal as well. "There was a time when a few people supported the party, but with the efforts of the party workers the BJP has now emerged as a strong party. With dedicated efforts to make the country corruption-free, the PM has changed the way India is perceived at the global level. He has also isolated Pakistan in international politics," he said.
"The world has acknowledged the strong and able leadership of India and it is just due to the political will of the PM that today, with the scrapping of Article 370, the nation now has one 'Vidhan', one 'Nishan' and one 'Samvidhan'," he said, adding that banning triple talaq was a landmark decision that ensured empowerment of Muslim women.
He said the PM had launched several schemes for the welfare of every section of society, which had changed the life of the common man.
The Chief Minister said: "Himachal is a small state but with the PM's decision to appoint Nadda as the party working president, it has gained prominence. Nadda has not only brought laurels to the state and its people, but also raised the hope of crores of party workers to make it the best party in the world."