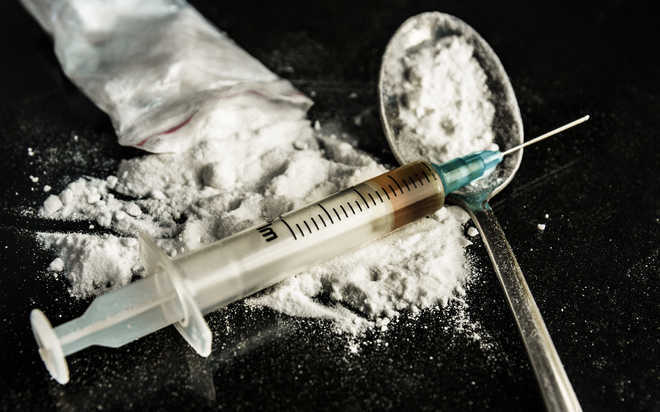 Bhanu P Lohumi
Tribune News Service
Shimla, October 8
The Nasha Nivaran Samitis, constituted at the police station-level by roping in different sections of society, have helped in the registration of 47 cases under the NDPS Act in the first six months of the year.
"Drug addiction has emerged as a global problem and the youth in the state are also becoming its victim. In spite of uprooting cannabis and poppy from the fields every year, the smuggling of the narcotics is continuing and the use of synthetic drugs has compounded the problem," said DGP SR Mardi.
The Nasha Nivaran Samitis comprises NGOs, youngsters, Health and Education Departments, mediapersons, retired police officers, ex-servicemen, Beopar Mandals, chemists, elected representatives and members of taxi and bus operator unions.
"The formation of samitis have helped in the registration of 47 cases in six months till June and the process of formation of the samitis at the panchayat level is under way," he said, adding that besides informing the police about the anti-social activities, these were also making efforts to keep the youth away from drugs by creating awareness.
Mobile App 'Drug-Free Himachal' and 'Nasha Nivaran Toll Free Helpline-1908' have also been launched and over 750 inputs have been received on 'Drug-Free Himachal' in which the complainants do not have to reveal their identity.
Other initiatives included roping in celebrities, including actors, singers and sportspersons, to create awareness on the ill-effects of drugs.
Awareness campaigns have been taken out in 2,252 schools and 171 colleges.
Helpline launched to curb abuse
Joint task force constituted
Nasha Nivaran Samitis constituted at police station level
Security beefed up at railway stations, bus stand and airports
Drug-Free Himachal and Nasha Nivaran Toll Free Helpline-1908 launched
Celebrities roped in to create awareness of drugs
Awareness lecturers in schools and colleges
Total cases till August 31, 2019 – 358
Persons arrested – 538 (516 men, 18 women, four foreigners)
Chitta seized – 4.906 Kg
Top Stories