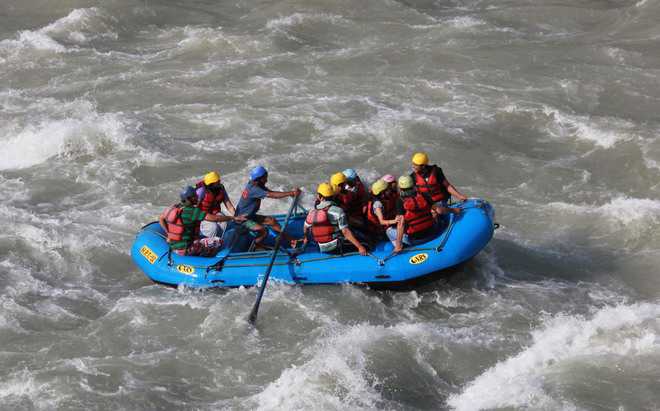 Our Correspondent
Kullu, September 16
A tourist from Kerala was killed as a raft capsized in the Beas near Kalehli, 11 km from here, today. Kullu Superintendent of Police Gaurav Singh said the deceased had been identified as Ranjith KS.
He boarded the raft with eight others from Kerala and it overturned while negotiating a rapid. While only six persons are allowed in a raft, the one which met with the accident was reportedly overloaded.
The deceased was on honeymoon. The guide and rescuers were able to save the others. The SP said the body had been recovered and a case had been registered.
The ban on paragliding and river rafting was lifted today, which had remained imposed since July 8. During rains, owing to water current in the Beas, ban is imposed on paragliding and rafting every year from July 15 to September 15.
Bhag Chand Negi, Kullu district tourism development officer, said ban had been lifted from rafting and paragliding.
There are over 300 rafts operating in Raison, Babeli, Pirdi, Bhuntar and Bajaura, which provide employment to many local youngsters. Similarly, many youth earn their livelihood by conducting paragliding at various locations in Kullu and Manali.
The DTDO appealed to the operators to adhere to the norms and conduct the adventure activities safely. He said the periodic inspection of equipment and guides was done to ensure people's safety. He said tandem flights of paragliders would be allowed only from the earmarked spots and strict legal action would be taken against the violators.
Meanwhile, tourists visiting Kullu can now enjoy the adventure activities. As many fatal accidents have occurred in these adventure sports in the past, the Tourism Department has enforced strict norms to carry out these activities.
Despite strict vigil, operators sometimes give the go-by to the norms, endangering lives. Legal action is taken against the operators in case accidents occur due to negligence.
Sanjeev, a raft operator, said they conducted a trial of the course of the river yesterday. He said a large number of queries were coming from tourists willing to enjoy the adventure sports. He said operators of adventure sports were expecting a huge rush of tourists this year.
Paragliding, river rafting now open
The ban on paragliding and river rafting was lifted on Monday, which had been imposed on July 8
During rains, owing to water current in the Beas, ban is normally imposed on paragliding and rafting every year from July 15 to Sept 15
As many fatal accidents have occurred in these adventure sports in the past, the Tourism Department has enforced strict norms to carry out these activities. However, despite strict vigil, operators sometimes give the go-by to the norms, endangering tourists' lives
Top Stories