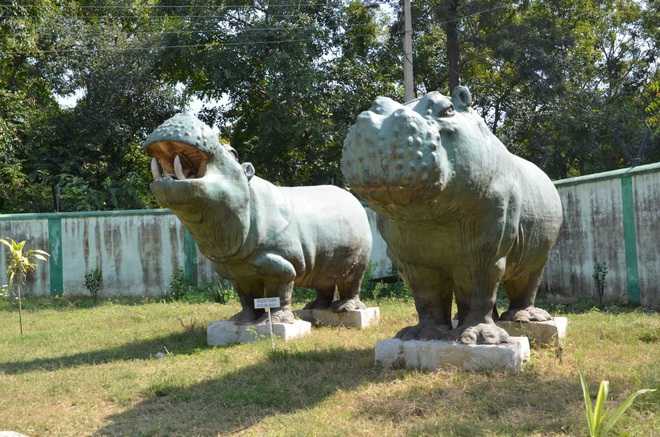 Ambika Sharma
Tribune News Service
Solan, September 19
Development of the fossil park at Suketi village in Sirmaur district as an ideal tourist destination is soon going to be a reality.
The district administration had proposed that the place be developed into a theme park. And, after the visit of a team of Asian Development Bank (ADB), the work is expected to start soon.
Apart from preserving the park's bio-diversity, the plan is to set up camping sites, along with rainwater harvesting facility.
It will be Asia's first such fossil park — a go-to place for adventure lovers. Speaker Dr Rajeev Bindal, who accompanied the ADB team, said efforts were afoot to give international recognition to the park during the next year's 36th international geological congress in Delhi.
While giving a facelift to its museum, maintained by the Zoological Survey of India, which is located within the park, facilities to facilitate tourists are supposed to be created.
The museum was set up to preserve the fossil site and provide scientific information to research scholars.
Sirmaur Deputy Commissioner Dr RK Pruthi said the ADB team would now prepare a report on how to plan the facelift of the fossil park, following which budgetary allocation will be made. The park exhibits ensembles of prehistoric vertebrates and skeletal remains of animals in form of sand stones and clay. Fiber-glass models of six-extinct mammals are on display at the museum. Research scholars from across the globe visit the place. Several efforts were made by the state government in the last few years to enhance its tourism potential. A tourism reception centre was also set up in 2013. Efforts to rope in private entrepreneurs to invest in the park were made in 2000 and another proposal for landscaping and beautification of the area was mooted in 2008, but none could materialise.
Chief Minister Jai Ram Thakur had also announced to develop the park with the ADB assistance last year in April during his visit to the district. An announcement to improve the road leading to this park was also made.