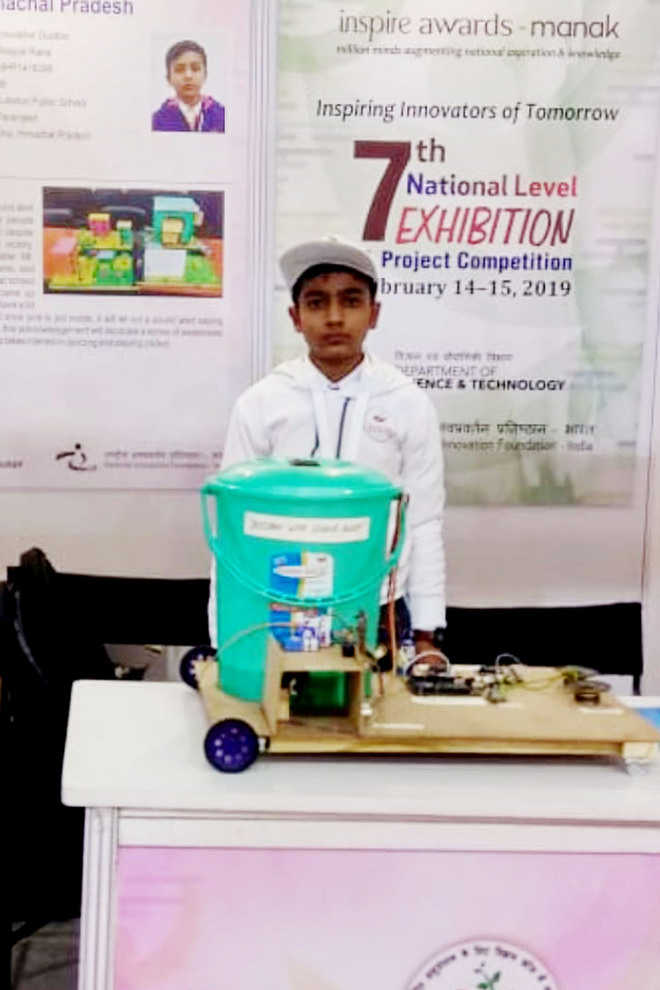 Our Correspondent
Una, September 19
A science model by Vinayak Rana, a Class IX student of Kutlehar Public School in Balh village of Bangana sub-division, has been chosen among 60 innovative models by the Government of India for the Inspire India Award. The model uses sensors and sound systems to educate people about the use of dustbins at public places.
Last year, the Education Department had invited science model ideas for the Inspire India Award and Vinayak Rana had sent his idea. The model won accolades right from the district and state till the national-level competitions.
Explaining the model, Vinayak said his gadget was a waste bin attached with some electronic equipment and could be placed in a public place. If anybody dropped some waste nearby, the gadget would immediately sense it and start saying 'use me'. "When the person picks up the waste and moves it close to the bucket, it will automatically pop open and say 'thank you' after the person drops the waste into the container. The equipment is portable and can be moved on tyres to any location," he added.
Inspire India exhibition was held in IIT-Delhi, where his model was appreciated and engineers there suggested ideas to further modify it.
Vinayak said he got the idea while he was in the Class VI and was travelling to Chandigarh with his father. On the way, they stopped at an eating joint, where he saw people throwing away discarded paper cups and plates.
School principal Vijay Kumar said Vinayak was helped by his family and science teacher.
The Department of Science and Technology of the Union Government had sent top 60 science models and their innovators to Japan. Vinayak had been communicated by the authorities in Delhi that he would be sent to Japan next year, the principal added.
Top Stories