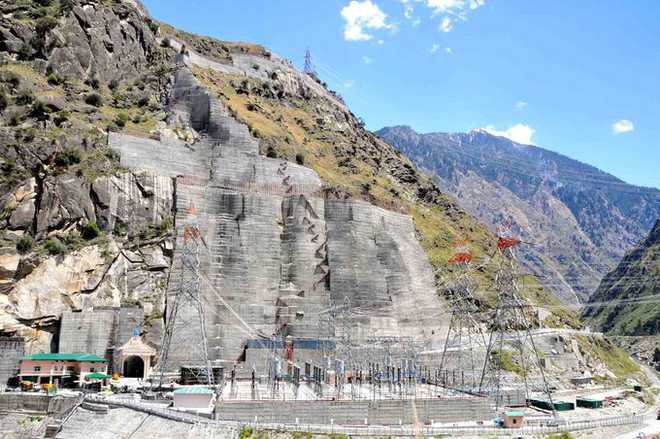 Kuldeep Chauhan
Tribune News Service
Shimla, January 5
There are virtually no takers for the 37 hydropower projects located in the "remote locations" in the five river basins of the Sutlej, Beas, Ravi, Chenab and Yamuna. The reasons: remote location, lack of data and location maps and unviable projects, claim Independent Power Producers (IPPs).
The government got just one bid for the 98-mw Stingri project in Lahaul, even as the first deadline for bids expired on December 15. The deadline has now been extended till March 31.
The Directorate of Energy (DoE) had advertised 37 power projects worth 1,137 mw, out of which about 171-mw capacity projects are self-identified for allotment, seeking bids from the power companies on a build, own, operate and transfer (BOOT) basis in July 2014. Out of these, projects worth 171 mw could be allotted to the identifiers as per the Hydropower Policy of the government, officials said.
The IPPs claim DoE provided no specific information on the location of sites of most power projects, which remain unviable because these are located in remote sites. The DoE provides no location maps, no topo-sheets prepared by the Geological Survey of India that helps locate name of streams and rivers and their distance from the highways or other roads, they pointed out, citing these as major reasons for poor response to the bidding.
Not only this, there are projects located on the same stream, whose capacity is not rationalised. The projects upstream have higher capacity as compared to the downstream projects, despite them having same head in the stream, revealed power producers.
Principal Secretary, Power, SKBS Negi said they provided all relevant information to the bidders, including location. Since many projects had been identified by developers, they knew the location and would look into the problems being faced by the IPPs, he added.
The government had got just one bid for the Stingri project and had extended the deadline for bids till March 31. "We assist the power producers from time to time and provide data," said SP Gupta, chief engineer in DoE.
As many as 11 power projects are located in the Chenab basin, seven in the Ravi basin in Chamba district, 11 projects in the flood-ravaged tribal Kinnaur district, where the tribals are already up in arms against the power projects. These include 36-mw Wangar, 8-mw Duling, 63-mw Dagla Nisang, 104-mw Ropa top, 101-mw Ropa III, 24-mw Hozis, 20-mw Bhujling, 12-mw Ropa II, 10-mw Wangar, 24-mw Hozis and 45-mw Gyamthing stage-I and II. Other projects advertised for allotment are located in the Yamuna and Beas basins, sources revealed.
Top News
2 others eject safely I Debris strewn across miles I Sukhoi,...
Visit comes ahead of NSA chief's US tour
Union Ministers call it part of efforts to de-colonise, indi...