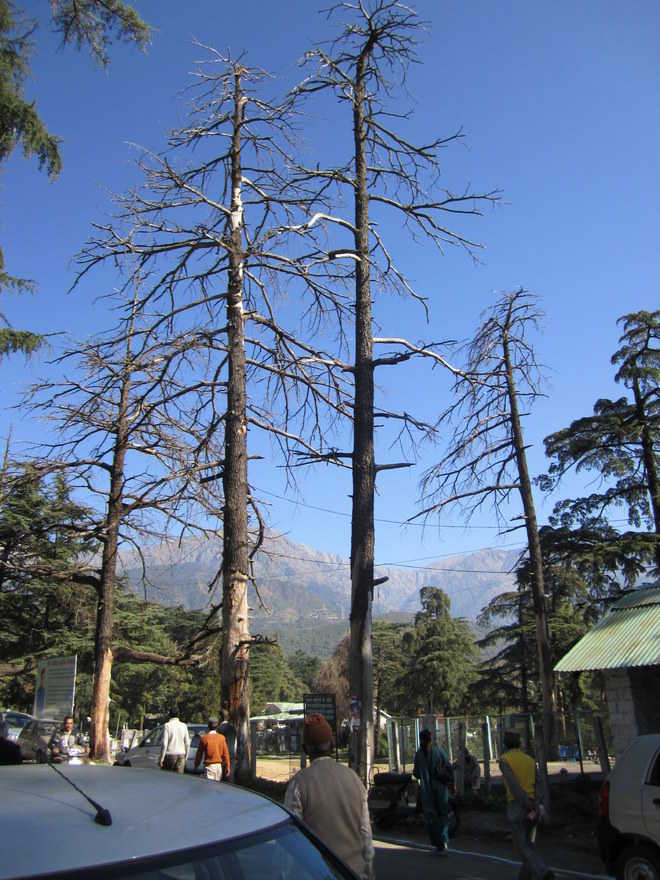 Ravinder Sood
Palampur, January 2
Nestled in the foothills of the Dhauladhar ranges, Palampur, a small town, is an ideal retreat for individuals seeking an escape from the city life. However, like other famous hill stations, Palampur, too, is in danger of falling prey to human activity due to man-environment conflict. Blessed with remarkable natural beauty, the town is 300 km from Chandigarh. It is famous for its salubrious climate, green hills and landscaped tea gardens.
However, deforestation is a major problem here. Deodar trees are slowly disappearing without any systematic plantation work. Moreover, uncontrolled mining and the extraction of sand, stone and gravel threaten important roads and housing colonies.
"Currently, the population of Palampur is 55,000 and is expected to touch 60,000 in the next five years.
However, there is no clear-cut collection and disposal mechanism of municipal organic waste leading to an unhygienic scenario in Palampur. Indiscriminate human activity has taken us to the edge of environmental chaos," say environmentalists who have been fighting for the protection of the environment of the town.
Palampur is the microcosm of the degradation that is taking place. The banks of the Neugal, Bhiral and Mol streams have widened due to rampant mining. People are encroaching upon forest land. Erosion in cultivated lands and even landslides have become a common feature.
Health Minister Vipin Parmar, who hails from Palampur, says that the government is doing its bit for the protection of environment. "A law banning the use of polyurethane bags in the state has already come into force. The law is being strictly followed. No one will be spared or given any concessions," he said.
However, the poor implementation of the polythene ban has virtually made the matter worse as today all water channels and forest lands are infested with polythene.
Palampur got its name from pulum, which means water in local parlance. The town came into existence in the 18th century when Britishers found it the ideal location for tea plantation.
The town does not face massive pollution as there are no major industries. But still, humans are certainly responsible for water pollution in the absence of any check from the state authorities.
Residents of the town feel that there is a need for cleaner, greener technologies and greater investment in research needed. Things may not be that bad for Palampur.