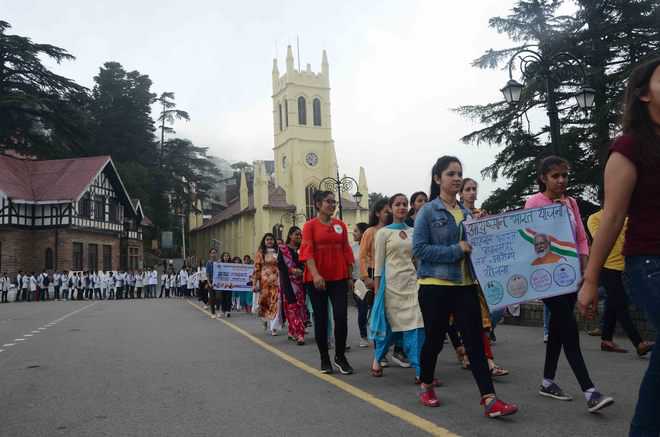 Tribune News Service
Shimla. September 15
Health Minister Vipin Parmar said here today that the state government had asked the Centre to include kidney transplant in Himcare or the Ayushman Bharat scheme, so that patients could get free treatment in the state.
Addressing the press conference after the launch of the fortnight-long awareness campaign on Himcare and Ayushman Bharat here today, Parmar said kidney transplant cost Rs 3 lakh to Rs 7 lakh per patient.
"Both the transplants done at the IGMC on two patients were funded under the CM's relief fund. We are taking up the matter with the Centre to make kidney transplant free either in Himcare or Ayushman Bharat," said the minister.
He said both the schemes had become popular among people in the state. "Under Himcare, 36,351 beneficiaries availed health benefits worth Rs 37 crore for free this month alone," he claimed.
The minister said the scheme provided free treatment for over 1,800 different procedures in 199 hospitals of the state. "As many as 6.42 lakh people who do not fall under the Ayushman Bharat scheme have made health cards under this plan," he said.
Parmar said the government was also providing free MRI and CT scans to patients under these schemes. "We will also consider that the patients get free diagnosis services for other treatments," said Parmar.
Specialist doctors were being made available at all six state government medical colleges, he said.
Responding to the queries on the irregularities in the purchase of medicines, equipment and implants under the schemes, Parmar said they had followed the e-tendering route to buy these items from the companies empanelled for the purpose.
Talking about the purchase of equipment by the ayurveda department, Parmar said the government had chargesheeted the director and suspended other officials involved in the case.
He said in the second case, audit was being done into the purchase of imported implants in the orthopaedic department and action would be taken if irregularities were found. "We are recording the statement of the patient who had lodged the complaint," he added.