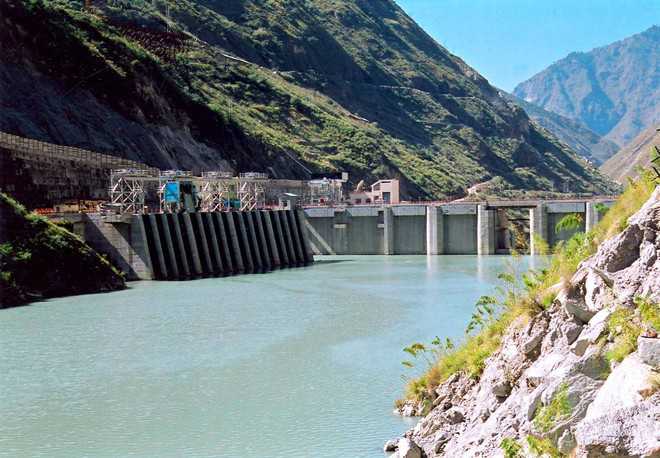 Pratibha Chauhan
Tribune News Service
Shimla, June 8
Faced with a piquant situation of reduced hydro-power generation forcing Himachal to purchase 200 MW power this summer, the state has decided to get hydrological modelling of the Satluj and Beas rivers so as to assess the viability of its existing and planned hydro power projects in the long run.
The Council for Science, Technology and Environment, has asked Indian Institute of Sciences, Bangalore to undertake the highly technical task of modelling the Satluj and Beas rivers, on which a majority of the big hydro-power projects are located. Hydrological modelling of rivers is a technology which has so far not been used in India by any state or agency.
"The experts will be able to predict the water flow in these rivers right from now onwards till the next 20-30 years which will help us assess the viability of the existing hydel projects and new ones being proposed on these rivers," revealed Tarun Kapoor, Additional Chief Secretary, Power and Environment. Hydro power is one of the main revenue generating sectors with a potential of almost 28,000 MW from the five main rivers and their tributaries.
It is perhaps for the first time that power generation which is maximum in summers due to accelerated glacial and snow melting, was reduced to even less than half in May. The reason behind this was less snow and rain in the winter months. "The generation in the month of May in big projects like Nathpa Jhakri, Karcham Wangtoo and Larji was reduced to half while in case of projects on smaller tributaries like Giri project was reduced even more," said Kapoor. He said though the situation was normal now this aspect will have to be looked into.
It was to tide over this shortage and to cater to its prior commitments that Himachal bought 200 MW in May from the grid and Punjab. "It is for the first time that we had to buy power in peak summers to not just meet our own demand but also to meet our commitment," revealed a power engineer.
Top Stories