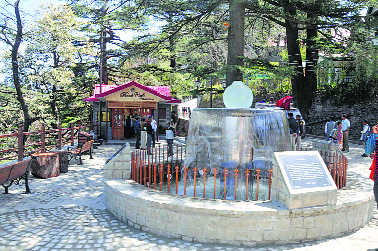 Bhanu P Lohumi
Tribune News Service
Shimla, October 22
Finally, prisoners of Kaithu Jail, Shimla, have lost the battle for Book Café, an icon for prison reforms, at historic Takka Bench on The Ridge.
The Shimla Municipal Corporation (SMC) has issued a notice, asking the Director General of Police (Prisons and Correctional Services) to handover the café to the highest bidder. Though the SMC was requested on several occasions to reconsider its proposal considering it was a unique initiative for rehabilitation of inmates, it seems commercial interests prevailed over the social responsibility. Brushing aside all requests and protests, the tender has been awarded to Brijinder Singh, the highest bidder.
"The SMC had invited tenders for allotment of Book Café at Takka Bench and the bid of highest bidder Brijinder Singh has been accepted. Accordingly, the possession has to be handed over to him," the SMC said in a letter to the DGP. SMC commissioner Pankaj Rai said: "The bid was for Rs13 lakh and all activities being carried out at the cafe will continue as it is."
The letter said prisoners' products would be accommodated considering the reforms undertaken by the Prisons Department and the Legal Literacy Help Desk would continue to exist in the café as per the prevailing practice.
DGP Somesh Goel said the café would be vacated by Thursday and efforts would be made to come up with some alternative. "The SMC has not clarified whether a separate counter would be set up to sell prisoners' products or there would be some other arrangement. It has also not said anything about how the legal literacy help desk, which is currently being run by the inmates, would continue to function," he said.
Meanwhile, a prisoner who got a chance to work at a dignified venue to earn livelihood wrote a letter to the High Court seeking relief. "I was given a new lease of life after I was entrusted with the responsibility of running the book café, which is my livelihood," the letter said.
The HC has forwarded the letter to the legal service authority, which has appointed a counsel. "The petition is almost ready and some information is awaited. It will be filed in the court at the earliest," said advocate Seema Guleria. The café was opened to rehabilitate prisoners. Items at the café are sold at nominal price, which is 30-40 per cent less than the market price and 80 per cent of the profit was paid to the SMC.
Top News
Team of Congress central observers, led by Chhattisgarh CM B...
'Observers sent to the hill state were seeking the individua...
BJP MP Kirodi Lal Meena moved for leave to introduce the Bil...
A bench of Justices MR Shah and CT Ravikumar said that only ...
Average of assets per winning candidates in Himachal Pradesh...