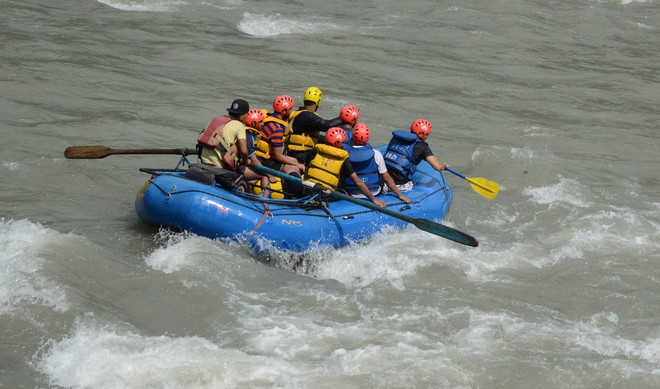 Dipender Manta
Tribune News Service
Mandi, September 19
Four days after the state government lifted ban on river rafting, several illegal operators have been spotted running the business in Kullu, throwing caution to the wind.
Overloading, use of poor quality equipment such as life-saving jackets, and unprofessional navigators are stated to be the common causes of mishaps.
"In majority of the cases where adventure seekers paid for the sport with their life, it has been found that the operators lacked a valid licence to conduct the activity and the navigators they had hired too were not professional," said Anilkant Sharma, a local resident.
Eight persons have died since 2013 in rafting-related accidents in Kullu alone.
A Kerala tourist, who was on honeymoon, died in the district two days ago when the raft he had chosen carried nine persons against its capacity of six. During investigation it was found that the operator had no licence to run the service.
Usually, an operator charges Rs800 per person and overloads the raft to make a quick buck. "Unaware of the malpractice, tourists don't object. Authorities should maintain a strict vigil to avoid such accidents," said Dileep Thakur, another local resident.
Hoteliers too are concerned. "The rising number of accidents directly affects the tourism industry. As a result, hotels lose business," said Anup Thakur, president of Kullu Manali Hotels Association.
Kullu District Tourism Officer Bhag Chand Negi said: "We are carrying out frequent raids to check documents and equipment of all raft operators. Only valid licence holders are allowed to run the service. Those flouting the norms will be fined heavily."
Kullu Raft Association president Shyam Chand said: "Officials of the association keep an eye on raft operators and tell them to follow norms to ensure tourists' safety. Some offenders go by unnoticed and the matter comes to light only after an accident takes place. We have requested all members of the association to complain against those illegally running the business."