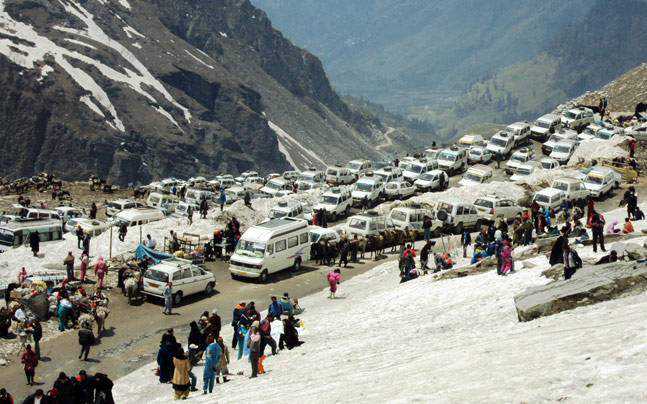 Dipender Manta
Tribune News Service
Mandi, November 8
The Border Roads Organisation (BRO) opened the Rohtang Pass on Wednesday, bringing relief to residents of Lahaul-Spiti.
The pass was closed on November 3 following heavy snowfall in the region, cutting off the tribal district from the rest of the state.
Talking to The Tribune, BRO Commander Col AK Awasthi said: "The pass could only be restored due to tireless efforts of the BRO. We had engaged our workforce and machinery from Lahaul and Manali to restore the road at the earliest."
"On Diwali too, BRO men were seen clearing snow from the Manali-Leh highway. By afternoon, they had restored the pass. As soon as it opened, around 150 stranded vehicles passed from the Lahaul side towards Kullu. The vehicles had been stuck in the valley since November 3 because of heavy snowfall," Awasthi said.
On Thursday, the Kullu administration allowed the movement of vehicles from Manali towards Lahaul, which were stranded in Kullu-Manali.
A large number of Lahaul-Spiti residents, living in Kullu-Manali, keep shuttling between Kullu and Lahaul for various works.
However, the district administration has restricted the movement of tourist vehicles towards the Rohtang Pass for security reasons. They have been allowed to go up to Gulaba.
Raman Gharsana, Subdivisional Magistrate, Manali, said: "We are allowing the movement of Lahaul-Spiti residents towards Lahaul from the Manali side. The tourists can go up to Gulaba only for snow-related activities."
The people have been told not to take the road between Manali and Lahaul because of frost at several places.
Ashok Kumar, Dinesh Kumar, Gyalchhan, Ravinder and a few other residents of Lahaul-Spiti thanked the BRO for opening the road despite several challenges in sub-zero temperature. "It will help us transport potato seed out of the district," they said.
Top News
AAP wins 134 of 250 wards, BJP 104, Congress 9, Independents...
BJP thanks people for 'recognising' its work, making it vict...
Moosewala's parents had stated that people from music indust...
Terming the Indian economy a bright spot in the otherwise gl...
Upbeat BJP aiming for a straight seventh win in state Assemb...