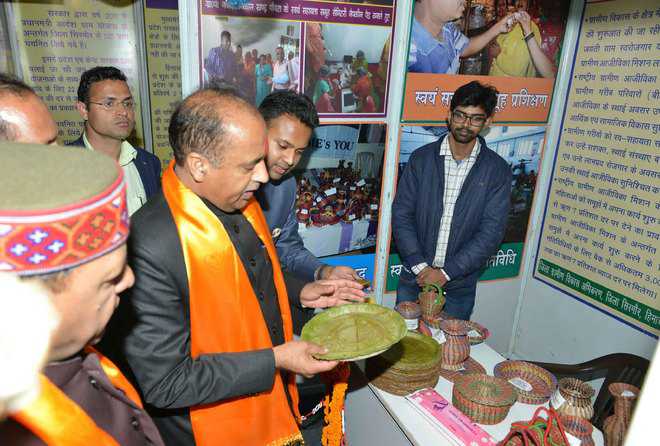 Tribune News Service
Solan, November 19
Chief Minister Jai Ram Thakur announced civil courts at Shillai, Tissa and Banjar after inaugurating the first cultural night of the Renukaji fair last evening.
He also released a souvenir brought out by organisers and a documentary on the fair. He also announced an SDM office at Sarahan from the next year as well as an IPH sub-division for Dadahu.
Addressing a gathering, he said fairs and festivals were vital for strengthening the bond of brotherhood among various sections of society.
Taking the previous Congress government to task, he said educational and health institutions were opened at the fag end of their tenure. Though five degree colleges were announced for Sirmaur district, a budget provision of merely Rs 1 lakh was set aside for these colleges.
He said the state was fortunate to have benevolence of Prime Minister Narendra Modi.
He announced the upgrade of various schools for Nahan, Shillai and Paonta Sahib. A Mukhya Mantri Lok Bhawan at Kafotta in Shillai was also announced.
The Chief Minister also inaugurated a mini secretariat constructed at a cost of Rs 6.77 crore at Sangrah on the second day of his tour to Sirmaur.
He also laid the foundation stone of a double-lane bridge to be constructed at Rs 14.27 crore over the Giri in Nahan-Dadahu-Haripurdhar road.
Speaker Rajiv Bindal, MP Shimla Virender Kashyap and MLAs of the district were also present on the occasion.
The annual fair marks the reunion of Lord Parshuram with his mother Mata Renuka once a year on the eve of 'Dashmi'.
Lakhs of devotees from across the country take a holy dip in the religious Renuka lake on 'Prabodhini Ekadashi'.
---
More for Sirmaur
Upgrade of various schools in Nahan, Shillai and Paonta Sahib
A Mukhya Mantri Lok Bhawan at Kafotta in Shillai
A mini-secretariat at Sangrah
Double-lane bridge over the Giri in Nahan-Dadahu-Haripurdhar road, stone laid
Top News
China is yet to name its Ambassador to India after Sun Weido...
In his police complaint, Sikh priest says 'Waris Punjab De' ...
Scotland Yard blockades area outside India House, several ad...
Minister for Water Resources Gurmeet Singh Meet Hayer moves ...