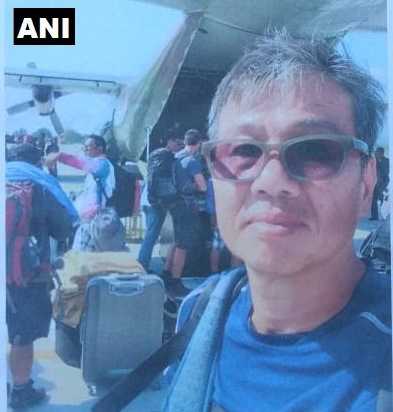 Lalit Mohan
Tribune News Service
Dharamsala, October 23
The body of a Singaporean paraglider was spotted in the Bir Billing area by a rescue team that was on way to the location of another missing paraglider, a Spanish national.
Kok Chang (53), a former commando in Singapore army and a free flyer, had gone missing on Monday, the Baijnath SDM said.
His body was spotted lying in hills of Utrala region in Baijnath area. "When the rescue team reached him, he was dead. The cause of the death could only be revealed after post-mortem," the SDM added.
Sources said the Singaporean paraglider had come here to participate in Paragliding World Cup being organised from October 27.
Meanwhile, the administration today maintained that the missing Spanish Paraglider, Jos Lewis has now been spotted in Bandla hills near Palampur.
The administration maintained that food and warm clothes have been provided to the trapped paraglider and he would be rescued tomorrow.
Yesterday, the administration had maintained that missing Spanish paraglider was trapped on a hill between Thumsar pass and Bara Bhangal village. Today, helicopters and para-motors were pressed into service to locate the missing paraglider in the Bara Bhangal area but he could be seen there.
In the evening, he was spotted by a rescue team in Bandla hills.
The spate of accidents in the past few days and death of the Singapore paraglider have caste shadow on the Paragliding World Cup being organised in Bir Billing from October 27 to 30.
Besides the said paragliders, a Russian and a Latavian paraglider have sustained injuries in Bir area of Baijnath. The Russian paraglider got stuck in a tree in the Jatingri area. He was spotted by an Australian paraglider who was in the air. The Australian paraglider informed the authorities who carried out the rescue operation. The Russian paraglider received minor injuries and had a sprain in the spine.
Latavian Paraglider Pakulus Mormund lost control over his glider and fell in the Joginder Nagar area. He was admitted to Baijnath civil hospital. He was later shifted to Tanda medical college, Kangra.
Several international paragliders have gathered for practice in Bir Billing paragliding site ahead of the world cup.
All the paragliders who are flying from Billing these days were free flyers. Bir Billling features among the top 10 paragliding sites in the world.
Top News
Deal expected to be complete by March 2024 | Tata group owns...
In his first major foreign policy speech since taking charge...
Asked to comment, Gandhi had told reporters in Indore on Mon...
Actor Anupam Kher condemns Nadav Lapid's controversial remar...