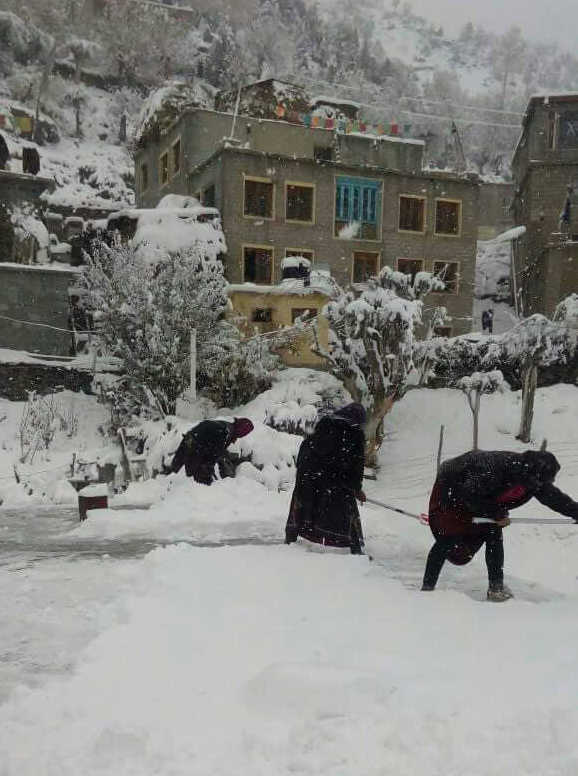 Dipender Manta
Tribune News Service
Mandi, November 17
Finally, the long dry spell has come to an end with fresh snowfall in the tribal district of Lahaul-Spiti. Several areas in the district received up to 25cm of snowfall today.
Koksar, Gondhla, Miyar and Tod valley received considerable snowfall, while Keylong, the district headquarters, received 5cm snow.
Normal life was thrown out of gear as traffic remained disrupted in the district.
The fresh snowfall has brought cheer on the faces of farmers, but at the same time, they are worried about long spell of winter.
People rue that the district lacks better medical facilities and during winter, the situation becomes bad when the main road leading to the Rohtang Pass, the gateway to Lahaul-Spiti, gets blocked for months due to heavy snowfall. During that period, the district remains cut off from rest of the world.
Kishan Kumar, a resident of Lahaul valley, said that snowfall had brought chill in the region. He said that residents were hopeful that the district administration would reopen the road between Kullu and Lahaul as early as possible. The road was blocked due to heavy snowfall at the Rohtang Pass.
Sanjive Kumar, another resident of district, said, "With closure of the Rohtang Pass, air service remains the only option for residents of the district."
"We urge the district administration to reopen the Rohtang Pass if weather improves in coming days," he said.
Deputy Commissioner (DC) Deva Singh Negi urged the people to refrain from venturing out in the inclement weather.
The DC advised visitors to get themselves registered at the rescue posts at Marhi and Koksar while moving from Manali towards Lahaul and vice versa. It would help the authorities in providing help to the victim as the terrain was tough, he added.
The Rohtang Pass would be opened for traffic as soon as the weather improves in the region, he added.
Top Stories