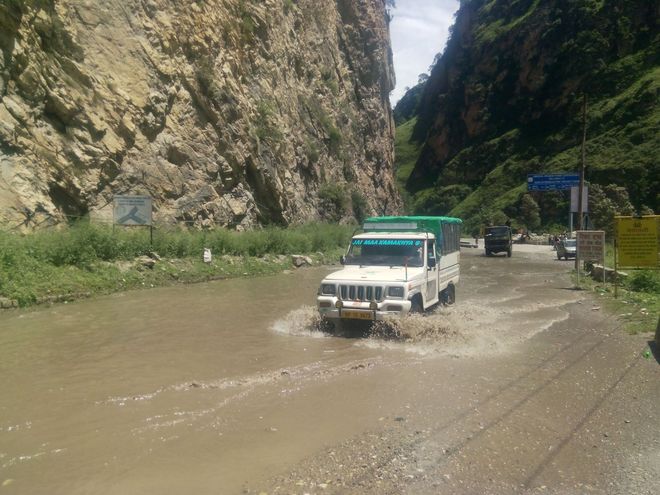 Mahesh Chander Sharma
Sundernagar, August 22
Sudden discharge of water from the tunnel of 126 MW Larji Project at Thalot flooded the National Highway-21, spreading panic in the area yesterday.
For about half-an-hour, traffic remained suspended on the Chandigarh-Manali road. As per information, maintenance work was on in the tunnel. The water level rose all of a sudden and workers rushed out.
Last year, 25 students were swept away in the gushing waters of the Larji Dam. Sources said the grid developed a snag resulting in disruption of power. All three machines, each of 42 mw capacity, stopped functioning and the water entered the connecting tunnel/ excess tunnel and untimely it flooded the highway.
Mandeep Singh, Resident Engineer, Larji powerhouse, said following the power disruption, the machines stopped functioning and the water level rose. "There is no need to panic as the powerhouse is equipped to deal with such a situation," he said.
The released of water created panic in the area with commuters and residents rushing to safer places.
Top News
Russian President vows to protect newly annexed Donetsk, Luh...
It is 80-year-old former 9-term MLA and a 3-term MP Kharge v...
Stated that 'no one does such things on purpose' and added t...
There is a heated argument between MLA Sukhpal Khaira and Sp...
After the first referendum, both countries have issued trave...