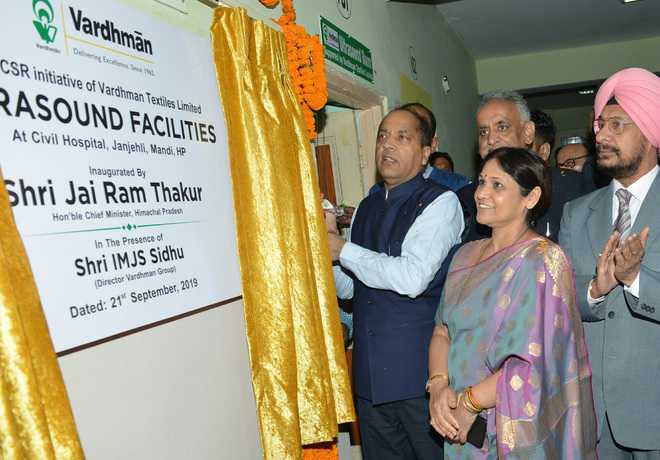 Tribune News Service
Mandi, September 21
Chief Minister Jai Ram Thakur today announced an increase in sports grant for school tournaments from Rs 20 lakh to Rs 50 lakh and diet money for players from Rs 60 per day to Rs 100 per day.
Presiding over the opening ceremony of the state-level under-19 girls tournaments at Janjehli in Seraj of Mandi district, the CM said sports activities were for overall development of human personality. It was heartening to see that girls were striving to excel in sports so that they could bring laurels to their schools and the state.
"The government has launched several schemes for their empowerment. 'Medha Protsahan Yojana' has been launched for providing Rs 1 lakh each for coaching to 500 students preparing for competitive examinations," he added.
Addressing the public, he said Janjehli was being developed from the tourism point of view. He said Rs 1.50 crore would be spent on construction of a science block in Government Senior Secondary School. He announced Rs 10 lakh for construction of a boundary wall of the school.
A combined office building would be constructed at Janjehli so that all offices could be housed there. He said 20 solar lights would be installed in the hospital complex and school.
The CM started ultra-sound facility in the Civil Hospital provided by the Vardhman Group. He said it would benefit about 70,000 people.
He also distributed prizes to the winners of 'Shikari Mata Utkrisht Vidyalaya Yojna' to the best schools and also provided free gas connection to people.
Later, he laid the foundation stone of motorable bridge on Bakhali Khad to be constructed by spending Rs 2.21 crore. Assistant Director, Education, PS Dhaulta welcomed the Chief Minister and detailed various activities being organised during the sports meet. He said about 693 girls were participating in this sports meet.
Mandal BJP president Sher Singh, DC Rugved Thakur, SP Gurudev Sharma, Chief Engineer, IPH and PWD, Principal of the school Rajinder Kumar were present.
More from CM's kitty for Janjehli
Rs 1.50 crore to construct a science block in Government Senior Secondary School, Janjehli, Mandi
Rs 10 lakh to build the government school's boundary wall
20 solar lights be installed at the Civil Hospital and the school
The foundation stone of motorable bridge on Bakhali Khad laid
The College of Horticulture and Centre of Excellence for the Horticulture Research and Extension at Thunag inaugurated