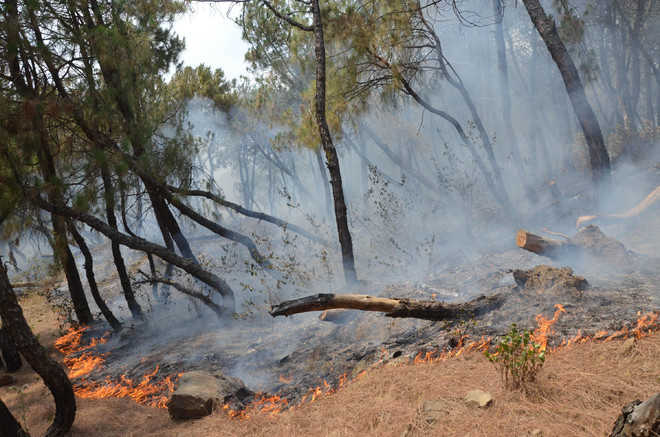 Lalit Mohan
Tribune News Service
Dharamsala, May 27
Raging forest fires around Dharamsala for the past three days have caused a huge tree cover loss, besides destroying portions of tea gardens of the famous Mann Tea Estate.
Guddu Pathania, general manager of the estate, said fire had been raging in the pine forests around the tea estate for the past three days. Though they had reported the matter to local forest officials, they could not do much to douse the flames. The fire destroyed a portion of their garden on Saturday, he added.
Strong winds in the region on Sunday morning further added to the woes as the fire was spread to other areas, including near Dharamsala cantonment. Pine forests on the Indrunag hill are also under fire.
Although habitations are far away from these forests, people are fearing that it may soon spread owing to strong winds.
Sources said there were only two fire tenders in Dharamsala that had been kept on standby in case forest fires threaten habitations. The fire had been caused due to huge dumps of dry pine needles that were highly inflammable, they added.
The Forest Department has been planting pine saplings in the area for the the past few decades as its survival rate is better. There are 27,910 hectare of pine forests in the Dharamsala circle, whichcomprises 20 per cent of the total forest area of the circle.
Pine forests have created problems both for farmers and the department. These trees have allelopathic impact. Allelopathy is a biological phenomenon by which pine trees produce bio-chemicals that do not allow any kind of vegetation growth in the surroundings. There is hardly any undergrowth of grass in pine forests.
Besides, there is generally heavy deposition of dry pine needles under the trees. These needles are highly inflammable and easily catch fire during summer months, when the temperatures are high.
Farmers generally set afire pine forests with a hope that there would be growth of grass in monsoon months that could be used as animal fodder.
Experts said the only solution to prevent fire is the removal of dry pine needles from the undergrowth. They said technology was available to convert these pine needles into combustible bricks.
Pine needles are already being used in kilns in cement plants in Solan district. However, the use is very limited and a low percentage of bio-waste generated by these trees is being used in the state.
Shop gutted; labourer hurt
Chamba: A shop in Bhagrota village, Cheelbangla panchayat, was gutted after forest fire spread to the area on Saturday. In another case, a labourer engaged in road repair work was injured when a branch of a burning tree fell on him. He was taken to a nearby hospital and is under treatment.
The authorities have released immediate relief to the shop owner as per the rules. Chamba District Magistrate Harikesh Meena has directed forest officials to book anti-social elements who were found involved in setting forests on fire. Struct action would be taken against the guilty, the DM added. — OC
Top News
She is administered the oath of office on Tuesday morning
AAP and Bharat Rashtra Samithi, however, say no to discussio...
Soon after the House meets at noon after the first adjournme...
A man who was in the court to attend a hearing attacked alle...
The three artistes -- Adam Berry, Gurujas and Harijiwan -- a...