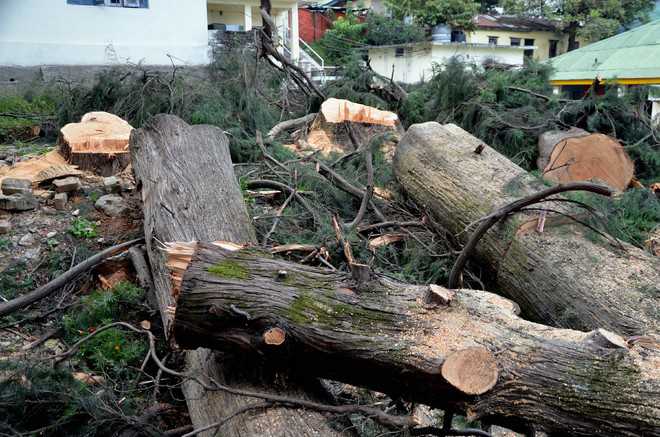 Lalit Mohan
Tribune News Service
Dharamsala, October 20
The Forest Department felled two huge green trees in its office compound in Dharamsala yesterday. The department has been flayed by citizens of the city.
Gazalla Abdullah, the green lady of Dharamsala who had launched a campaign against felling of green deodar trees in Upper Dharamsala area, while talking to The Tribune, said she was shocked to see the huge green trees felled right in the compound of the Forest Department.
"What is shocking is that the trees that have been felled were not a threat to any building. At a time when protests are being held worldwide against the climate change and people are being sensitised about it, the Forest Department of Dharamsala is felling trees in its own compound", she said.
Kamal Chaudhary, a resident of Dharamsala, lamented that at many places even dried-up trees were standing in the middle of roads in the city and the department was not giving permission to fell these. So what kind of a message the Forest Department was giving to the people if it was felling huge green trees in its own compound, he asked.
Dharamsala DFO Sanjeev Sharma said that the Forest Department had obtained permission from the local Municipal Corporation for felling both trees. Sources said the department had felled trees to raise new multi-storey building on its compound.
However, the many locals of Dharamsala asked when they are finding it difficult to fell trees on their own properties, why the Forest Department was axing trees in its own compound.