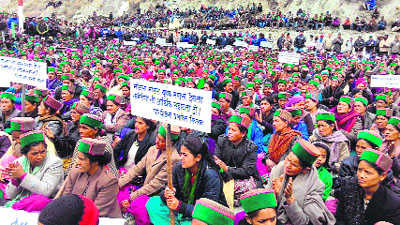 Kuldeep Chauhan
Tribune News Service
Shimla, February 24
Thousands of tribals, including project-affected people, workers and farmers from Kinnaur district, today gave a clarion call to get back the land that has allegedly been acquired illegally by the JP company.
Farmers, workers and leaders, cutting across party lines, joined the anti-JP company Jan Andolan at Tapri, breached the police garrison and stormed inside the JP's Sholtu camp and threatened to capture it.
They, however, retreated peacefully due to the presence of the police and made a fervent call to get back the acquired land, including apple orchards acquired by JP in Choltu, Sherpa colony and Kupa. They said not even bona fide non-tribal farmers from Himachal were entitled to acquire tribal land in the state.
Project-affected people said the management of Jai Pee Karcham-Wangtoo and Baspa power projects and state government have failed to protect the interests of people and workers in Kinnaur.
Mahila mandals, yuvak mandals, workers, including unemployed youth, displayed banners such as "return the acquired land to public, stop thekedari in work" joined the andolan, braving bad weather and high police deployment. They raised anti-JP and anti-government slogans.
Addressing the Jan Andolan Communist Party of India-led CITU Trade Union, vice-president Rakesh Singha, CPM state secretary Onkar Shad, Congress district president Sunder Negi BJP zila parishad member Surat Negi and representatives of JP Workers' Union of Karcham-Wangtoo and Baspa-II said farmers and workers would continue the protest and would launch the Jail Bharo Andolan on February 26 to press upon the government to accept their demands.
Singha warned that if the government and JP management failed to accept their demands, they would start "Save Kinnaur and throw out JP" movement on March 2.
"The workers had submitted a charter of 14 demands to the JP company on October 15, 2014, but nothing has been done in this direction so far," he said.
Farmers demanded proper rehabilitation and compensation for the loss caused to farmers, ecology and environment by the projects.
Villages including Miru, Yula, Chanso could be wiped out of existence due to landslides caused by the unscientific cutting of the steep fragile hill slopes of Kinnaur by constriction companies, farmers said.
Leaders raised pathetic state of affairs of local development under LADA funds and catchment area development fund and promise of free electricity to tribals as per state hydro policy.
The company has not spent a penny on local development since 2011, when the project became operational and a large number of power projects proposed on the Satluj basin from Spiti to Karcham would spell doom for the fragile ecology of Kinnaur, the leaders said.
Singha said JP management had not paid even 10 per cent of what the SJVNL and HPSEB-run Sanjay Vidyut Yojana located in the same Satluj basin were paying to its workers.
The JP management termed the protest as a pressure tactic as the company had followed all legal procedures before acquiring the land.
DC Kinnaur DD Sharma said over phone that the protest was peaceful. "Some boulders were falling on the road from steep hillsides during the protest, but no one was injured. We have deployed 200 policemen to prevent any untoward incident," he said.