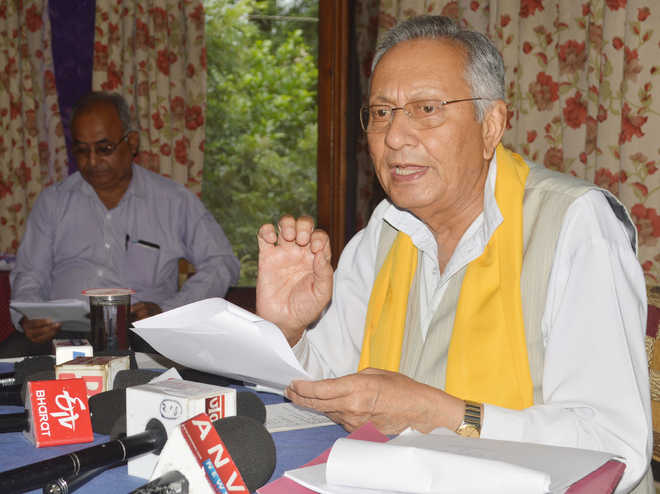 Tribune News Service
Dharamsala, September 7
Adding fuel to the controversy over the hike in travel allowance of MLAs by the government, former minister Vijai Singh Mankotia today alleged that despite the state reeling under financial crunch, the political class was not resorting to any kind of probity in public life.
Addressing a press conference, Mankotia alleged that he fought for over a year to get information under the RTI Act regarding the public money spent by former CM Virbhadra Singh. "Initially, I was denied the information, but later I quoted a Supreme Court judgment with my RTI application and got the details," he said.
As per information, Virbhadra spent about Rs 111 crore on his helicopter rides within and outside the state during his last stint as the CM. It was besides the salary and other allowances he drew from the public exchequer, Mankotia alleged.
"From April to December 2013, the money spent on helicopter was Rs 13,43,94,202. The extra flying hours for 2013 cost the government Rs 4,35,20,361. From January to March 2014, another Rs 4.5 crore was spent, " he added.
He demanded a White Paper from the ruling BJP government on the status of expenditure and revenue, claiming that the expenditure had increased, but revenue hadn't. In August, the Himachal Assembly passed the Bill for increasing the travel allowance of elected politicians from Rs 2.50 lakh to Rs 4 lakh. The proposed hike would put an additional annual burden of Rs 1.99 crore on the state exchequer.
The move has triggered protests in various parts of state. Many people vented their anger on the social media, with protests on against this hike.
Even the former CM, Prem Kumar Dhumal, questioned the steep rise in the allowance. He said Parliament had already passed a Bill that the wages and allowances of MPs would be increased through a wage board as was done for government employees. The state government should also adopt this exercise rather than allowing the MLAs to increase their wages on their own, he said. The Chief minister, reacting to the statement of Dhumal, had maintained that he would reconsider the increase if the MLAs gave it to him in writing. Mankotia said he would be filling an RTI application, seeking information on the use of helicopter by sitting Chief Minister Jai Ram Thakur in the last two years.
Top Stories