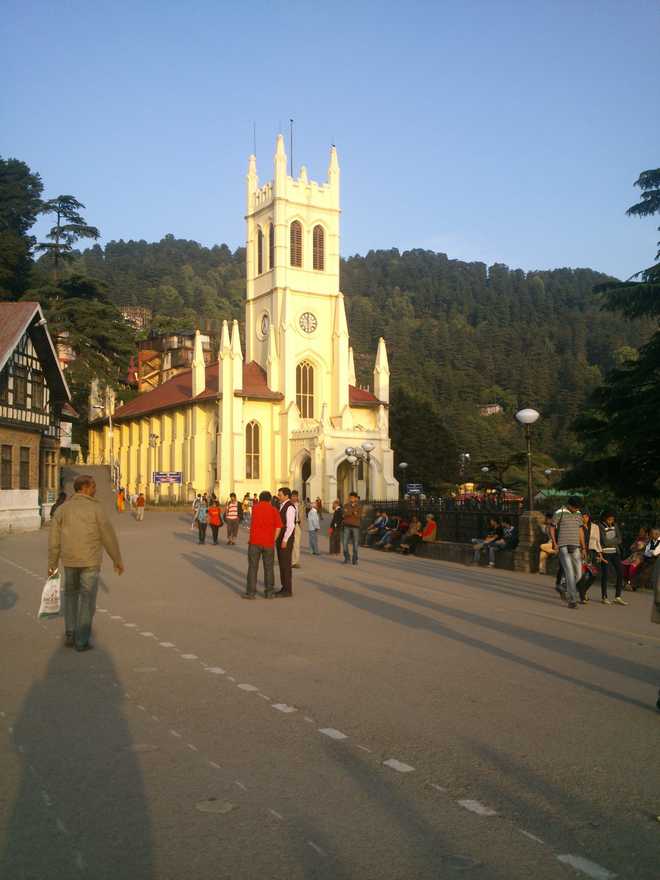 Bhanu P Lohumi
Tribune News Service
Shimla, March 10
The hill state witnessed a decline of 16.08 per cent in the tourist arrival in 2018 as compared to 2017.
The decline in foreign tourist influx was recorded at 24.29 per cent and domestic at 15.87 per cent.
Sources said the lowest number of foreigners visited the state in the past 10 years while the percentage of domestic tourists touched a four-year low.
An acute water shortage in Shimla during summers, frequent landslides, traffic jams due to the ongoing four-laning of Shimla-Parwanoo and Kiratpur-Manali highways, demolition of illegal hotels in Kasauli, Manali, Kasol, Dharamsala and some other key tourist resorts following the orders of the Supreme Court and the NGT hit the tourism industry hard.
Early snowfall in September also resulted in mass cancellation of hotel bookings in tribal areas, especially Lahaul-Spiti, and stakeholders in the tourism industry suffered heavy losses.
The sources said the situation in Shimla, one of the most sought-after destinations, became so pathetic due to water shortage that residents took to the social media asking tourists not to visit Shimla. The situation started improving by the end of July, but the peak tourist season was over by that time.
As many as 1,64,50, 503 tourists, including 3,56,568 foreigners, visited the hill state during 2018 against 1,91,30,541, including 4,70,992 foreigners, during 2017.
In 2013, the tourist arrival was 1,63,14,400 and it had maintained the rising trend till 2017. However, a reverse trend was noticed in 2018. The statistics gathered by the Tourism Department included religious tourists who visit the famous shrines across the state every year.
Stakeholders in the tourism industry have blamed the lack of proper planning and crisis management to to the dip in the tourist inflow. They said natural factors had not affected the industry much.
They said tourists visiting three or four places in the state were counted three to four times. The actual number of tourists was less than the statistics of the department.
MK Seth, president of the Tourism Industry Stakeholders' Association, MK Seth said water shortage in Shimla was a chronic problem which aggravated during summers. There were no alternate routes in the landslide-prone areas.
Dharamsala, Shimla, Kullu-Manali most preferred
Dharamsala, the abode of Tibetan spiritual leader the Dalai Lama; Shimla, reminiscent of British architecture; and Kullu-Manali, famous for snow and adventure, continue to remain the most preferred tourist destinations. There is a perennial flow of tourists to "Shakti peeths" in Kangra, Bilaspur, Una, Sirmaur and Mandi for the ancient Shiv temples. Foreign tourists and adventure lovers are attracted to the virgin areas of Kinnaur, Lahaul-Spiti and Chamba.
Top News
The minister inaugurates Chief Judicial Magistrate court, Ma...
'I am Rahul Gandhi, not Rahul Savarkar,' he said when asked ...
Former Union Minister Ravi Shankar Prasad says stay on convi...
The plea is filed by a Kerala-based social activist
Amritpal has been on the run since March 18