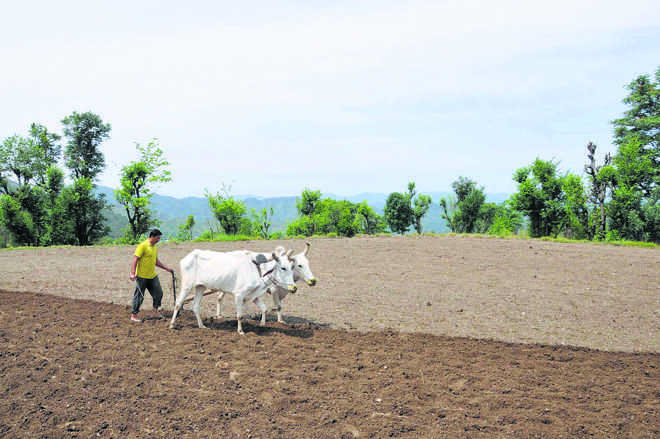 Kuldeep Chauhan
Farmers in the state are under distress, courtesy repeated crop failures over the years. Politicians of all parties make tall claims in their election manifestos, but only to get votes, as these remain unfulfilled even when the party comes to power.
This time, Lok Sabha elections are due on May 19 in the state. The two major contenders for power — the ruling BJP and opposition Congress — are wooing farmers at different platforms such as rallies and press conferences, with promises ranging from doubling farmers' income by 2022 (BJP) to ensuring Rs 72,000 direct benefit to poor including farmers and loan waivers (Congress).
Judicial probe sought into crop insurance 'scam'
Farmers on the other hand are a disillusioned lot and hit by agricultural crisis in the state. They have demanded a judicial probe into the "scam" in the weather-based crop insurance scheme that runs into several crores. If one goes by the data of the last three years, not even 40 per cent of farmers have reaped benefits from the crop insurance scheme. According to the data available from the Horticulture Department, of 3.85 lakh farmers who insured themselves under the scheme, as many as 1.50 lakh farmers have not got any benefit from the insurance scheme from 2015-16 to 2017-18.
"Farmers who got insured with different insurance companies listed by the department are yet to get claims for 2018-19. They are in distress due to the successive lean crop years from 2017 to 18, as erratic weather and drought have wreaked havoc with the crop," said Laxman Thakur, chairman Himalayan Eco Horticulture Society (Ecohort), Nandpur.
It has been two years of crop failures, but the insurance companies and state government did not pay a penny to drought-hit farmers, while the banks deducted their premiums from their accounts without their knowledge, he said, demanding a probe into the alleged "insurance scam".
Rakesh Singha, president, Himachal Seb Utpadak Sangh, who is also Theog legislator, said: "The weather-based crop insurance scheme is a big scam as per the information I have received from the department. Private insurance companies are minting money as they earned profit worth Rs 22 crore from the farmers of the Shimla district alone. Not only this, the government did not give me exact data in crop insurance scheme when I raised it in the Vidhan Sabha in the last session."
Singha said the government should order a judicial probe involving a judge of the High Court into the alleged scam that runs into crores of rupees. The truth will come out as the state government is misleading farmers and not providing correct information under the RTI, he charged.
He said the insurance companies have not set up enough weather stations in the main apple producing districts of Shimla, Kinnaur, Mandi, Kullu, Chamba, Lahaul-Spiti and parts of Sirmaur and Solan districts. In Narkanda and Oddi, there are only two stations and climate change and erratic weather pattern vary from one small village to another in hilly areas, Singha said.
Data on weather is inadequate due to few weather stations that enable private companies to collect premium from farmers. The state and Central governments both pay in 50: 50 ratio, he said.
According to the data, farmers paid Rs 61.90 crore premium from 2015-16 to 2017-18. The state and Central governments contributed Rs 42.23 crore each to the insurance companies as per their equal share, which made a net profit of Rs 28 crore in three years.
The companies claimed they paid claims worth Rs 117.51 crore — Rs 32.95 crore in 2015-16, Rs 34.62 crore in 2016-17, Rs 49.93 crore in 2017-18 — and benefitted 2.35 lakh farmers in these three years.
Farmers, however, trashed companies' claims saying that they deducted premiums from their bank accounts without their knowledge.
"We got nothing in the last two years in most cases despite harvesting leanest apple crop last year," said Akshay Bragta, a farmer from Maroag.
Even the farmers of Lahaul-Spiti did not get a penny under the crop insurance scheme for over 90 per cent losses they suffered in September 2018 due to heavy snowfall as the insurance cover period expired on July 31. They demanded extension in the covering period of the crop insurance scheme from July 31 to September 31.
Director horticulture ML Dhiman said they get data from the insurance companies, which they collect from their weather stations set up by them in each cluster in the state. We have taken the matter with private companies to set up more weather stations as demanded by farmers, he said. Dhiman said companies have not given data to the department for the last year. Crop insurance is mandatory for loanee farmers as per the Central government policy and the extension of period of insurance cover is being taken up with the companies, he said.
"Farmers' distress remains unaddressed in the state and neither the BJP nor Congress have set up the Land Commission. Out of 9.62 lakh landholders, 70 per cent farmers do multiple cropping with vegetables, fruits, cereals and pulses. There are no cold storage and processing units for vegetable and tomato growers and maize farmers in the state. Farmers do not get 50 per cent of the profitable price for their produce as recommended by the Swaminathan Commission in the markets. Farmers need no government support if they get a minimum irrigated 5 bigha land (50 per cent farmers have less than 5 bigha land in the state), profitable price for their produce, solution from monkey and stray cattle menace, proper access to markets and protection from exploitation at the hands of commission agents,"said Dr Kuldip Tanwar. Farmers want the state government to set up land and farmers' income and welfare commission to diagnose agriculture distress.
The farmers constitute country's 52 per cent population. They demanded "profitable price for all major crops", so that they get profits when the crop prices crash.
Besides apple, Himachal has emerged as a big vegetable basket producing 280 metric tonne peas, 180 MT potato, 150 MT cauliflower and 150 MT tomato. But farmers suffer huge losses as the price crashes every year, said Dr Kuldip Tanwar, president, Himachal Kisan Sabha.
On the other hand, scientists said even assured irrigation and increase in productivity have failed to bring farmers out from the agri-crisis and suicide attempts due to debt. "Punjab has 98 per cent assured irrigation and one of the highest productivity in the world, but farmers are in deep crisis," said Dr Devinder Sharma, an agricultural scientist.
"Average land holding in Himachal is very less and farmers need minimum 10 bighas so that agriculture can sustain. The state government needs to start the nautor land policy for this, so that the flight of unemployed youth can be stopped from villages after agriculture becomes a profitable and sustainable venture," he said.
"The governments have committed a massive farm theft worth Rs 12.80 lakh crore. Farmers are forced to sell their produce due to distress and crash of prices in the markets every year," he said.
Dr Sharma said the government has the 7th Pay Commission for employees that constitute just 1 per cent population, but no such commission has been formed for the farming community, which constitutes 52 per cent of country's population.
There is nothing to increase the income of farmers. Hence, a farmers' income and welfare commission is the need of the hour, he said.
It's getting grimmer
Farmers in Una dumped their potatoes in fields last year, as the prices crashed.
Tomato producers were forced to sell a crate for Rs 300 as prices crashed from Rs 1,500 per crate in Solan district.
Similarly, garlic producers of Sirmaur faced the same problem as prices tumbled at Rs 31 per kg from Rs 131 per kg recently.
'No effort by govt to address farmers' woes'
It is a flawed thinking on the part of the government establishment that the 'weather' goes by its calendar. Hailstorms are not covered under weather-based crop insurance. Farmers are being cheated by crop insurance companies under the nose of the Horticulture Department. They are not compensated for the loss they suffer due to drought that has triggered two crop failures in the apple producing areas. The insurance companies are debiting money from the bank accounts of farmers. They are minting money from farmers. There is no serious effort on the part of the government to address farmers' distress. — Laxman Thakur, Chairman, Ecohort, Nandpur
Where are profitable prices?
The state just has 19 per cent area under irrigation. The state produces 16 lakh MT vegetables, 14 lakh MT cereals and pulses and 8 lakh MT fruits. But where are the profitable prices of farmers? — Dr Kuldip Tanwar, President, Himachal Kisan Sabha
'Open loot of farmers at all levels'
There is an open loot of farmers at all levels. Farmers are not getting profitable prices for their produce in the market. Even arhtiyas fleece and cheat those who sell in markets. They flee without making payment and farmers have to struggle to lodge FIRs. The Agricultural Produce Market Committee (APMC) system has collapsed as the state agriculture marketing board and APMC have failed to implement the APMC Act to regular commission agents, ensuring payment to farmers at the time of sale of their produce. Crop insurance schemes are a big scam and over 70% farmers are getting benefits, while private insurance firms are making huge profits. Last year, companies earned Rs 22 crore profit in Shimla district alone. I sought information on crop insurance schemes in the Vidhan Sabha, but the government denied it. — Rakesh Singha, President, Himachal Seb Utpadak Sangh and Theog legislator
'Cong manifesto addresses all issues'
The manifesto released by AICC president Rahul Gandhi addresses all issues that have pushed farmers into agricultural crisis — loan waiver and criminal proceedings against farmers in case of bad loans. Party has declared its final assault on poverty. BJP is anti-farmers and anti-growers. The Rs 1,143 crore horticulture modernisation project and other projects that were started during the Congress regime have been sabotaged as the BJP government has done nothing to modernise the processing units. Farmers are not getting virus-free plant materials, vegetable growers are not getting processing units and adequate prices for their produce in markets. — Kuldeep Rathore, PCC president
'BJP trying to solve farmers' problems'
The BJP is trying to solve farmers' problems. Our target is to double their income by 2022. Prime Minister Narendra Modi started the Kisan Samman Nidhi Yojana offering direct benefit of Rs 6,000 as assistance to poor farmers. It has benefitted lakhs of farmers in the state. The BJP is solving the problem of stray cattle through gaushalas. The government has provided neem-coated urea to farmers at economical rates. The Prime Minister Krishi Sinchayee Yojana will bring maximum area under assured irrigation. — Satpal Satti, BJP president