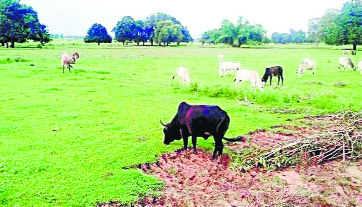 Lalit Mohan
Stray animals, especially cows, have forced farmers in many areas of Kangra district to abandon their fields.
The Tribune team visited Lanj in Kangra district and found that many farmers have abandoned their fields. The reason was not far from the fields. A large herd of stray cattle could be seen sitting undisturbed in the abandoned fields.
Farmers confirmed that they have been forced to abandon their fields due to stray cattle. Our landholding is very small. Generally, we used to sow for our own consumption. However, for the past few years, stray cattle in the area have increased. The cattle destroy our crop and due to religious beliefs, we cannot even hurt them, they said.
Farmers alleged that the stray cattle have been released in their villages by outsiders. The officials of the Department of Animal Husbandry had started registering the animals of farmers. All animals including cattle and buffalos were to be tattooed with names and address of owners. The idea was to help the department in keeping a track of animal owners.
Under the new Act, now the panchayat can impose a fine up to Rs 500 if the cattle of some owner is found to be damaging the fields or other property of other farmers. However, there is no such provision for cattle that are already left stray and cannot be linked to any owner.
They said the government had formulated a policy to open gausadans (community cowsheds). NGOs are being urged to open gausadans. The government would give them one-time grant or set up the community cowsheds for NGOs, the department officials said.
However, inquiries revealed that very few NGOs have come forward to accept the proposal of setting up community cattle sheds. Generally, the cattle abandoned by owners have stopped giving milk. It would be hard for any society to manage un-enumerative cattle without persistent government support.
Sources said that the work of tattooing animals was also progressing at a very slow pace.
The officials, when contacted, said NGOs that open community cowsheds would be helped in establishing technology to earn out of cow dung and urine products.
Sources, however, said even selling cow dung and urine byproducts cannot generate resources to maintain stray animals in the proposed cowshed. Animal Husbandry experts believe an organisation would have to spend at least Rs 500 to Rs 700 per annum for proper care of stray animals. The government would have to give at least some persistent grant for the maintenance of community sheds to keep them operational. If government provides persistent grant, the remaining expenditure can be met by raising funds through donations.
While the government is moving at a snail's pace to tackle the problem of stray cattle, farmers in certain regions are getting restive. There were reports that certain unidentified persons in Shimla district loaded stray animals in trucks and pushed them down a hill leading to their death or fatal injuries.
Such acts of farmers might bring them at loggerheads with religious or animal activist groups and create unrest.
---
I used to plough my 5 kanal land. However, due to stray cattle menace, I have given up agriculture. My land now lies barren as stray cattle destroy whatever we sow. — Balbir Chaudhary, A resident of Lanj
The farmers of the region were already facing problems due to wild animals. Now, the increasing number of stray cattle,too, has added to our woes. The stray cattle roam in herds and destroy crops of farmers. We cannot attack and injure stray cows on religious grounds. — Mukesh Kumar, A farmer from Indora