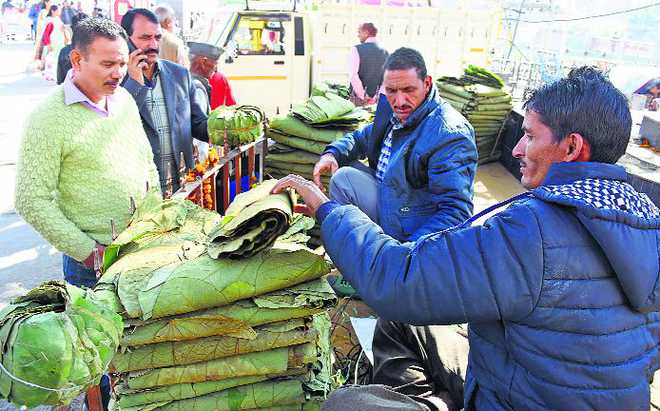 Dipender Manta
Pattals or plates made from leaves are back in demand, courtesy ban orders on the use of plastic and thermocol plates and glasses.
Be it any occasion — marriage or birthday parties, people are reverting to using traditional plates made from leaves. Those in the business of making these plates are high in demand in Mandi district.
In the past few years, disposable plates were gradually replacing the traditional pattals in the district, due to which around 100 families (involved in making these traditional plates for generations) were struggling to sustain their livelihood.
Disposable plates are economical than pattals, due to which a majority of people prefer buying plastic plates, thus affecting the economy of these families residing in Pandoh, Grahan villages and in Balh valley of the district.
Almost 15 years after, Chief Minister Jai Ram Thakur on June 5 announced a ban on the use of thermocol plates and glasses in the state, as they were a major cause of pollution.
The government also banned plastic water bottles less than 1-litre capacity at official functions in Sundernagar.
The decision proved a boon for pattal makers in Mandi district, as now, their plates are high in demand.
Baldev Kumar, a resident of Pandoh, said: "After the ban orders, leaf plate makers are doing a brisk business here. Earlier, I hardly earned Rs 300 to Rs 500 per day by selling pattals in Mandi town, but the sale has increased up to Rs 1,500 to Rs 2,000. We have heaved a sigh of relief as we can continue with our traditional profession, which was on the edge because of machine-made plastic plates."
In Mandi district, people living in forest areas were dependent on leaf plate-making business to sustain their livelihood. The plates are transported from villages to Mandi town, where it is sold near Gandhi Chowk. Special space has been provided to people involved in this trade.
According to pattal makers, the demand for leaf plates is increasing now in neighbouring districts including Kullu and Bilaspur, as these are eco-friendly.
Murari Sharma, a resident of the town, said earlier pattals were in demand not only in Mandi district but in neighbouring districts as well. But with the advent of machine-made disposable plates, the demand reduced drastically.
"However, the use of pattals continued in Mandi town while serving Mandyali Dham, as people prefer eating in these pattals while sitting on the ground. These plates are eco-friendly, which can be converted into compost," he said.
Traditional art
Leaf-plate making is a traditional business for over 100 families in Mandi district, who depend on the sale of these plates for their livelihood. The making of leaf plates is an arduous work, which requires collection of leaves from the forest and pinning it down with a thin, sharp wood at home to give it a shape of a plate. As per the market demand, they make two types of plates (small and big) to serve food and sweet dishes separately.