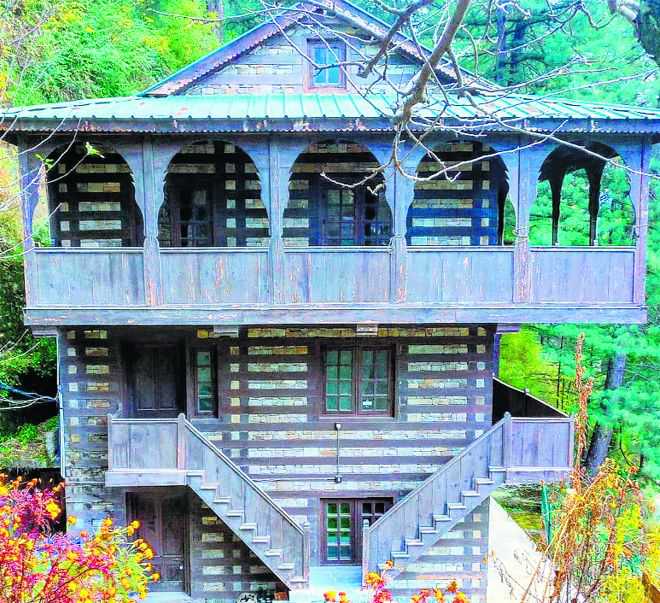 Dipender Manta
Rapid urbanisation has taken a toll in the villages of Himachal Pradesh, as traditional kashth-kuni (wooden carved) houses are losing its glory, which are being slowly replaced by modern concrete structures.
In the past few years, it was observed that people were demolishing traditional kashth-kuni structures to make way for 'modern' houses made of concrete and cement, which is directly impacting the ecology of the area.
Rahul Bhushan, a young entrepreneur, has taken upon himself the responsibility of promoting and preserving traditional houses in Kullu district for the past one year. He has taken it as a challenge to motivate villagers of the district to keep the structure of traditional houses intact, which can be beautified to attract domestic and foreign tourists to boost village tourism. Home stays are gaining momentum in the state as tourists prefer staying in villages to enjoy tranquility and panoramic views of nature. He asks villagers to take home-stay plan for tourism as an opportunity to reap real benefits to boost their economy.
In modern times, environment degradation is being witnessed daily in its depleting resources and its devastating impact on all species. An architect himself, Rahul is trying to restore the balance at his venture 'NORTH' in Naggar village of Kullu district.
Kullu villages including Naggar, Old Manali, Malana and few others situated in the lap of Himalayas are main attraction for tourists in Kullu district still because of its unique traditional houses, clean air, pristine environs and inviting snow-clad mountains. But with the passage of time, unplanned townships, urbanisation and uncontrolled tourism in the past few years is taking a toll on the beauty of these villages and people are constructing new houses made of concrete and cement for commercial and domestic use. These drastic changes affected young entrepreneur Rahul and he started working on restoring the traditional glory.
He said: "My research thesis was based on the preservation of local craftsmanship and contextual architecture as the young generation was moving out of their old houses and making concrete ones, an unhealthy move compromising their heritage value."
"I started restoring an old forest house and involved my friends from NIT and CEPT and local craftsmen in it. We concentrated on local art, kashth-kuni architecture and the team literally labored over everything – landscaping, farming, diverting water supply from a stream, electricity connection, plumbing, cooking stove, digging out stones and chopping trees, painting the building and building the furniture. After three months, the house was ready to host guests with the collaboration of locals, thus giving them a great platform to promote their culture," he said.
"NORTH has been conceptualised as a responsible business, which benefits locals, brings power to creatives and keeps a vision for future development of state. It also helps in learning from our culture, traditions, keeping important values, preserving heritage and also innovating, inspiring and empowering locals to have a better future," he said.
He said NORTH project involves, research-design-build project based on environmental and development issues in Himachal Pradesh. Apart from the design studio, it also focuses on education and skill development by conducting hands-on academic workshops, lectures on Himalayan architecture, planning, conservation / adaptive reuse, innovative development strategies and revitalisation of indigenous building system "kashth-kuni" and craftsmanship of Himachal Pradesh — wood working and carving, metal works and handloom.
Educating villagers about rich kashth-kuni art
Rahul is educating villagers about the importance of traditional kashth-kuni houses, which are earthquake-resistant and also attractive to look at. He said the state government was promoting home stays in villages to encourage village tourism. These traditional houses can play a vital role in attracting tourists to villages, he says. He has collaborated with over 20 master craftspeople on different projects, workshops and events, which benefit them, economically and even socially. Last year, he also took part in an exhibition in Delhi to display Himachali culture and tradition at national level.
Top News
2 feared dead as car plunges into Beas river on Chandigarh-M...
On Tuesday, a police team from Chhattisgarh reached Uttar Pr...
Mann is getting married to Dr Gurpreet Kaur; it is his secon...
The bus was making way for another school bus when the accid...