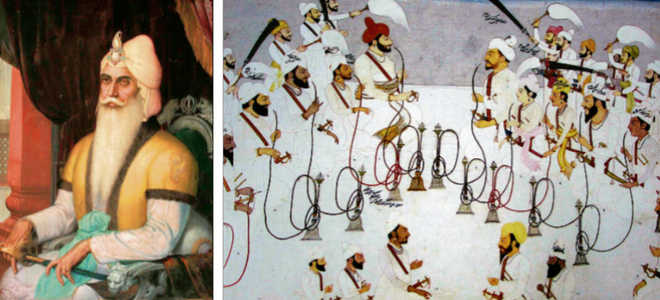 Shriniwas Joshi
THE 180th death anniversary of Maharaja Ranjit Singh or Sher-e-Punjab is being observed this year. Pakistan, too, unveiled his statue near his grave at Shahi Qila, Lahore, which was later vandalised.
We, too, remember him for his Kangra venture and pay tributes to Raja Sansar Chand on his 196th death anniversary.
Maharaja Ranjit Singh ruled the northwest subcontinent in the early half of the 19th century. His reign introduced reforms, modernisation, investment into infrastructure and general prosperity. His legacy includes a period of Sikh cultural and artistic renaissance. He was popularly known as the Sher-e-Punjab. His equal was in Kangra – Sansar Chand Katoch, although 15 years older to him. He was a visionary and aesthete, who emerged as the great patron of art. Kangra miniature touched the zenith during his rule. More than 40,000 paintings were readied in his time, which earned name and fame in India. He established 36 karkhanas (workshops) each dedicated to different art and craft.
He was also a patron of architecture and got built palaces and other buildings at Sujanpur Tira and a garden to match Shalimar at Alampur. He was the emperor of the hills, commonly called Pahari Shahanshah. Here in the painting (see pic) he is shown wearing a brilliant orange turban and occupying the pride of the palace among the princes of his feudatory states.
Sansar Chand ruled as the undisputed monarch of the hills for 20 years but his overwhelming ambition carried him too far. He wanted to win Lahore and a common saying at his court was "Lahore prapt" (may you acquire Lahore). But it remained a dream which he could never fulfil. When he lost his fort in Kangra to Ranjit Singh and started residing at Sujanpur Tira, he had to go to Lahore, once in a year, to pay respects to Ranjit Singh. It was certainly a galling duty to him but he was always given due respect in the court of Ranjit Singh and made to sit by the side of the Maharaja. Once he yawned there when Ranjit Singh taunted "Lahore prapt". Sansar Chand was equal to the occasion and said, "Jo hua so prapt" (whatever happened is gain).
According to Moorcraft, Sansar Chand was subjected to many indignities as the years passed by. He was going to Ladakh once. On reaching Mandi, he was told that he could not proceed further without the permission of the Maharaja. He left everything in Mandi with his fellow traveller Trebeck and rode to Lahore. He obtained the permission there and went back to join his camp at Kullu. Since the loss of Kangra, Sansar Chand had resided principally at Sujanpur, but came to live at Alampur, which is on the right bank of the Beas. At Alampur gardens, small buildings accommodated him and his court but a larger one was erected there for the zenana. Why did he leave Sujanpur Tira?
On one of his visits to Lahore, Ranjit Singh remarked that he had heard a lot about the splendour of Sujanpur Tira and would like to see it. Apprehending that Ranjit Singh would grab it, he told the Maharaja that he should have felt honoured by his visit to the place but that he quitted Tira, which had fallen into decay due to negligence and loss of care. He said the place was unfit to receive the Sikh chief and said he might satisfy himself by sending a person to inspect it. Ranjit Singh was a clever person. He sent an envoy to find out the truth. Sansar Chand was cleverer. He sent a messenger and ordered him to travel day and night and reach Sujanpur Tira before the Sikh envoy, get some men at Sujanpur and give it a dismantled and desolate look.
The report made by the royal envoy deferred Ranjit Singh's proposed visit to Tira but the circumstances excluded Sansar Chand from his patrimonial mansion. The occupation of Kangra fort by Ranjit Singh is also an interesting story. Before the battle, Ranjit Singh sent for Anirudh Chand, son of Sansar Chand, from Sujanpur Tira.
He was received with great honour and then placed in charge of Fateh Singh Ahluwalia in order to hold him as hostage, if need be. Ranjit Singh defeated the Gurkhas, who were holding the fort. He wanted to occupy the fort but Naurang, wazir of Sansar Chand, refused to hand it over to anybody else than his own king. Ranjit Singh then sent a message to Sansar Chand: "If you value the safety of Anirudh Chand you must go in person to the fort and order its surrender, otherwise Anirudh Chand will pay the penalty."
Sansar Chand surrendered and the Maharaja took possession of the fort and also of 66 villages in Kangra valley. The rest of the princely state was left to Sansar Chand.
TAILPIECE
It was on Baisakhi, April 12, 1801, that Ranjit Singh assumed the title of Maharaja after having united many fringe Sikh groups into one powerful state