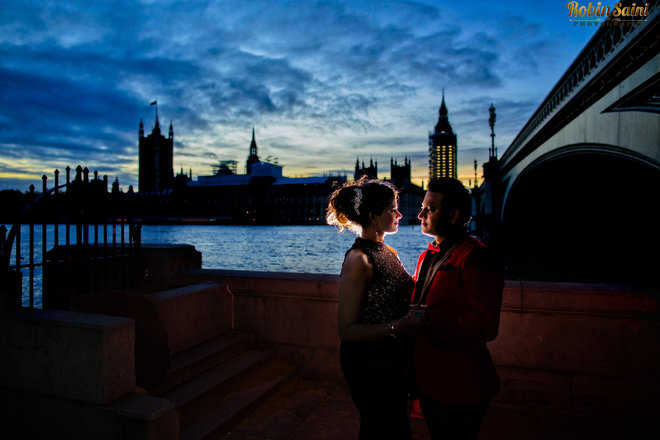 singhking99@yahoo.com
Purnima Sharma
With Indians travelling like never before, and making their presence felt on social media, they want the perfect pictures that not just serve as evidences of a great holiday but also inspire awe and, perhaps, even envy when shared on the digital platforms
When Misha Kanwar got married, in keeping with the latest trend, she ensured the best wedding photographer to cover the ceremony. Her husband Amit's family too made sure they got a high-end professional to cover their side of ceremonies. And the results, as they both proclaimed, "were spectacular". But when they were ready to take off for their honeymoon, Misha became increasingly apprehensive about the kind of pictures they would end up with. "The setting — in the exotic locales of Mauritius — would be picture perfect, but the pictures would not be," she was sure. And the reason was that neither of them was good with the camera. "The idea of coming back with just some regular phone pictures was not going well with us," Amit, a researcher, adds.
Of course, friends joked about packing in the regular selfie stick and a tripod. But, when one of their friends suggested "packing him along as a photographer", the mind of the Kanwars started ticking. "Although this wasn't such a bad idea, he was shown the door but not before being thanked for planting this idea in our heads," laughs Misha. A bit of browsing and soon the couple had hired a local photographer through an office in Gurugram that specialises in offering vacation photographers. "Since he was a local of the island country, he knew the best locales to photograph us," says Misha, thrilled with the decision that, though inadvertently made, has given them some "mementos from an epic trip, not just worth framing but also making posters of".
---
"It starts with a lot of research. Hunting for the best locations, scouting for good backdrops — be it an interesting doorway or a set of windows of a house — besides keeping track of perfect light in different spots." — Robin Saini, photographer
---
Photo finish
Gone are the days when one of the essential 'take-alongs' on a trip was a camera (even if it had to be borrowed). Now, with changing times, travellers are moving a step further — and taking a vacation photographer along. Even on their honeymoon.
"The reason for this is simple. Many a time, people come back from their holidays with not too many good images," says Kapil Arora, who with his business partner Deepak Bansal, offers help to those looking for talented snappers to immortalise their holiday moments. "I know of many vacationers who get back with hundreds of pictures but most of them are either badly composed and not-very-complimentary selfies or blurred shots taken by other tourists."
And with Indians travelling like never before, and making their presence felt on the social media, they want the perfect pictures that not just serve as evidences of a great holiday but also inspire awe and perhaps, even envy when shared on the digital platforms.
"Just an expensive camera is not enough," concedes Rohit Dayma, a keen traveller, whose Paris holiday with his wife Akanksha and daughter Anaya did not have any great images to speak of. "My wife was very upset because, barring a few, most of the pictures we took did not do justice to the great time we had," says the financial head with a foreign firm.
That is why when Rohit suggested they take off for their next holiday to Cape Town, his better half wondered if they could get a shutterbug on hire. "No, not the kind who stand outside historical monuments and click a few pictures for a fee — but ones who travel around with you for a few hours, know the place and the good backdrops, make you laugh to get some precious candid shots and later, even become your friends. And it turned out that they were available," he adds. Happy that someone else will shoulder the responsibility of creating his holiday pictures, Rohit laughs recalling moments that bordered on him "feeling like a star" with the lens trained on him most of the time, and "feeling kind of awkward" when the photographer suggested some intimate shots with his wife. "But we couldn't resist his bidding — after all, we were in such a romantic setting. And got some amazing images that we otherwise would never have," he smiles.
Capturing the moment
It was to give vacationers happy moments such as these that Deepak and Kapil set up their company offering photographers on hire. The idea took root when the then Deepak, a chartered accountant based in Dubai, was visiting Ladakh with friends. Being a keen photographer invariably found himself behind the lens clicking pictures. "Although I didn't mind that, but I didn't get the time to enjoy the beauty of the landscape without worrying about not capturing it in camera," he says. His friend Kapil, also a CA, too decided to quit his job to take the plunge.
Things weren't rosy initially because "the idea of a photographer tagging along with you on your vacation or even honeymoon wasn't too acceptable", he says. But, with changing times and demands of the social media for picture-perfect moments, the trend is picking up.
Agrees Pune-based Robin Saini, who became a professional photographer "by sheer chance". Robin always enjoyed photography. This marketing head at a radio channel shot some wedding pictures of an office intern, which became such a hit "that one of her friends who was getting married soon after, asked me to do an entire shoot for her — as a professional".
But, of course, things are not as easy as they may sound. "It starts with a lot of research and recce from the very outset. Hunting beforehand for the best locations, scouting for interesting backdrops — be it an offbeat doorway or a set of windows of a house in a street — besides keeping track of the perfect play of light in different spots, etc," he goes on. "And above all, create a good rapport with your clients — for that is what works best towards getting some splendid candid shots."
"A good connection and chemistry with the photographer is indeed a must," insists Summit Salunke, who prefers letting a professional lensman capture the special moments of his life, even on holidays. "I'd had enough of asking passers-by or the driver or people in a restaurant to click my pictures. The result would be not just some random out-of-focus images but also badly framed compositions — what we want in the frame is either chopped or completely cropped out."
Remembering his London outing for his babymoon, the businessman remembers how when they were getting their shoot done, some interested onlookers not just suggested other locales but even helped the photographer in handling the equipment. "And the result is some stunning, creatively shot pictures."
Recently, he took a big group of 22 family members and friends to celebrate his son's first birthday in Bali. "Each frame is a delight and our lensman's efforts show — be it jumping into a pool to get a creative shot or lying down on the ground to capture different angles to add interesting elements and drama to the shoot."
All readers are invited to post comments responsibly. Any messages with foul language or inciting hatred will be deleted. Comments with all capital letters will also be deleted. Readers are encouraged to flag the comments they feel are inappropriate. The views expressed in the Comments section are of the individuals writing the post. The Tribune does not endorse or support the views in these posts in any manner.