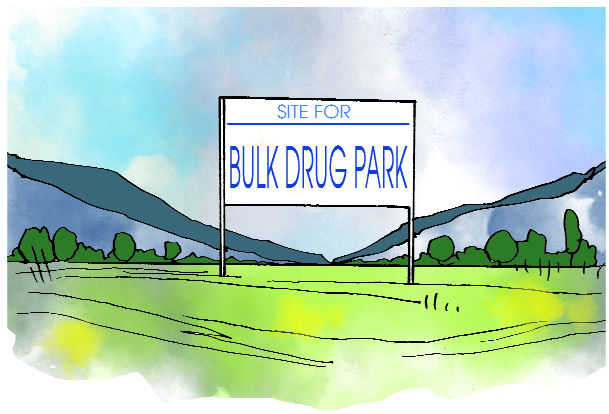 vinaymishra188@gmail.com
Vijay C Roy
Tribune News Service
Chandigarh, October 8
Micro, Small and Medium Enterprises (MSMEs) in Himachal Pradesh would assist pharma units in the state to reduce their dependence on China for raw material. Taking a step in this direction, the state government has decided to allot land to MSMEs to set up Active Pharmaceutical Ingredients (API) manufacturing units at the proposed Bulk Drug Park in Baddi-Barotiwala-Nalagarh belt.
Due to paucity of land, the state government has decided to prefer small and medium units engaged in manufacturing of raw material for formulations. Bulk drugs or APIs are the active raw material used in a drug that gives it the therapeutic effect.
After three years, there is a ray of hope for industrial units, especially which wish to expand their base in the state. Having land in possession, the state industry department has approached the prospective units.
"We have 663 bighas in possession to set up the park. We will prefer MSMEs instead of large units as we have limited land. After providing basic infrastructure such as roads and effluent treatment plants, the remaining land will be around 250-260 bighas," said Sanjay Kanwar, Deputy Director (Industries), Single Window Clearance Agency, Baddi. He said, "We have appointed an agency for environment impact assessment. It will submit its report in three months."
The department has written to the Himachal Drug Manufacturer Association, seeking a list of MSMEs that are interested in set up API manufacturing units at the proposed pharma park. The department will prefer pharma units which need only 10-20 bighas to set up a plant.
"The initiative by the state government will go a long way in promoting bulk drug production in the state. We would work as a nodal agency in reaching out to MSMEs and attracting investment in the state," Dr Rajesh Gupta, president, Himachal Drug Manufacturers Association.
The Baddi-Barotiwala-Nalagarh industrial belt of Himachal Pradesh is considered to be the second largest pharmaceutical cluster of India. Combined turnover of around 750 pharma companies in the belt is around Rs 40,000 crore and has a significant share in the Rs 1.10 lakh-crore domestic pharma market.
In 2016, the Centre had announced to set up bulk drug parks at Baddi in Himachal Pradesh, besides in Visakhapatnam, Ahmedabad and Tamil Nadu to boost bulk drug production in the country.
The decision was aimed at reducing dependence of Indian pharmaceutical companies on Chinese firms for active pharmaceutical ingredients. Around 75-80 per cent of the APIs used in the formulations of essential medicines are sourced from China. In 2017, India imported APIs worth $2.5 billion from China.
2nd largest cluster
The Baddi-Barotiwala-Nalagarh industrial belt of Himachal Pradesh is considered to be the second largest pharmaceutical cluster of India
750 pharma firms
Rs 40,000 cr turnover