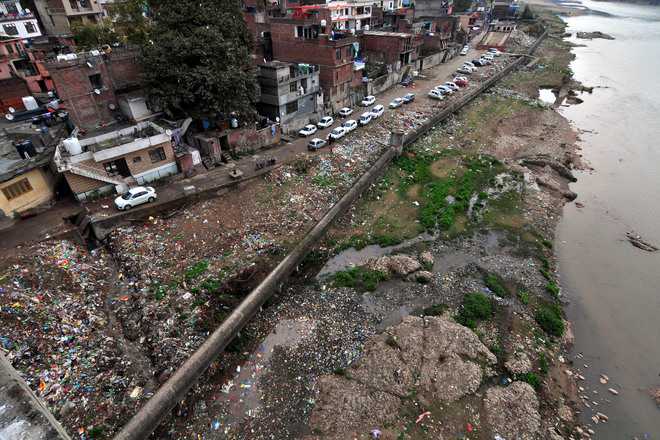 editorial@tribune.com
Sumit Hakhoo
Tribune News Service
Jammu, February 11
Illegal colonies along the Tawi and the political patronage enjoyed by the land mafia could be a major obstacle to the ambitious National River Conservation Plan (NRCP), the foundation stone of which was laid by Prime Minister Narendra Modi during his visit to the state on February 3.
The Rs 180-crore river conservation project is aimed at curbing the influx of pollutants in the Devika in Udhampur and the Tawi. The deadline for the completion of the project is March 2021.
A senior official said it would be difficult to translate the plan on the ground especially in case of the Tawi as for over a decade the Jammu Development Authority (JDA), Jammu Municipal Corporation (JMC) and the irrigation and flood control department had failed to evict the encroachers and stop illegal construction.
The Jammu and Kashmir High Court had directed the government to act against the land mafia.
The river is facing an existential threat due to the lackadaisical approach of the authorities to complete the multi-crore underground sewerage project to divert 12 major drains for the past over a decade. The sewage treatment plants are still incomplete which further raises a question how the government will complete the project in three years.
"The illegal colonies are a major source of pollution as untreated sewage directly flows into the river. You can see it from Nagrota, Gujjar Nagar and Bhagwati Nagar. Either the government has to regularise the colonies or start a massive drive to evict the encroachers, which is unlikely," said PN Bali, former Chief Engineer, public health engineering and flood control department.
At times, political parties have communalised the eviction process, leading to attacks on government teams trying to stop construction.
Even the previous PDP-BJP government failed to take any action against the encroachers.
The Tawi, which originates from the Kali Kund glacier in the Upper Himalayas in Doda district, passes through Doda, Udhampur and Jammu district before entering Pakistan.
"The river is grasping for breath. Most of the illegal residential colonies are not linked with the underground sewerage system. Some colonies have been constructed on the riverbed itself and continuously pollute the water," said Bushan Parimoo, an environmentalist.
It is estimated that about 80 million litres of untreated sewage is poured directly into the river.
When asked to comment on the slow pace of the anti-encroachment drive, Director, Land Management, Jammu Development Authority, DS Katoch said: "I cannot comment on why the eviction process has slowed down. Talk to the vice-chairman, JDA, or the district administration."
The JDA vice-chairman and the Jammu Deputy Commissioner were not available for comment despite repeated phone calls to them. In 2012-13, the Tawi was brought under Integrated Water Resources Management of the National Hydrology Project but after preliminary data collection, no headway was made.
Top Stories