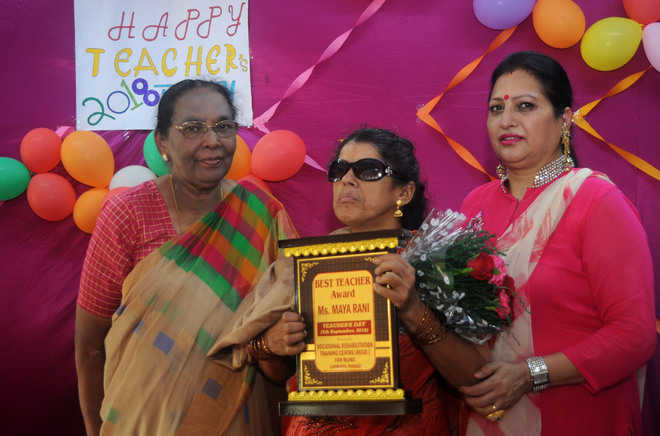 editorial@tribune.com
Gurvinder Singh
Tribune News Service
Ludhiana, September 5
The resounding ovation of visually impared students sent a message across the frontiers that a mentor needs a will to spearhead despite impairment.
The roaring applause left everyone awestruck as their teacher Maya Rani (51) visually impaired teacher was honoured at the Vocational Rehabilitation and Training Centre (VRTC) on Teacher's Day.
Rani has sincerity in her voice and advises students to live an honest, disciplined life and become good human beings. She has been teaching at the VRTC for the past 18 years and her teaching career commenced at a centre for visually impaired at Narnaul in Haryana.
Rani said, "I never let visual impairment become an impediment in my life." She completed her matriculation from the VRTC and then went onto pursue bachelors and masters in history.
She said, "The credit for my studies goes to my uncle who ensured that after completing schooling, I join at the VRTC."
Rani said, "Braille must be used everywhere, including all public places, and on products etc. It will create much more accessibility for visually impaired. Taking exams in Braille script should also be allowed in the board exams instead of providing writers, as the writers don't write exactly what they are dictated."
She said more use of Braille script would also help in creating jobs for visually impaired as they know how to write in this system.
Students at the centre presented a cultural programme, including group songs, play etc.