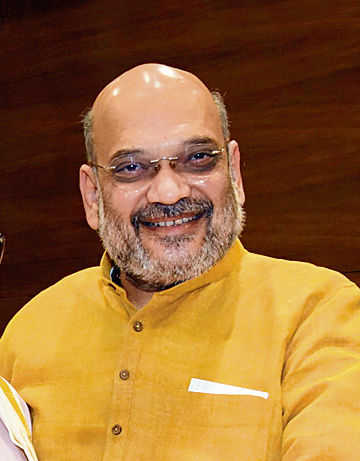 vinaymishra188@gmail.com
Sushil Manav
Tribune News Service
Chandigarh, October 9
It is now clear that the BJP will target the Congress on dynasty politics and nationalism in the run-up to October 21 Haryana elections.
Union Home Minister and BJP president Amit Shah attacked Congress' dynasty politics while addressing rallies in the strongholds of former CMs Bhupinder Singh Hooda and Bansi Lal and AICC spokesperson Randeep Surjewala.
Bansi Lal's elder son Ranbir Singh Mahendra is Congress nominee from Badhra, son-in-law Somvir Singh from Loharu and daughter-in-law Kiran Choudhry from Tosham, Bhiwani. Hooda's son Deepender unsuccessfully contested the Lok Sabha elections from Rohtak. Surjewala's father, Shamsher Singh Surjewala, was a state minister.
Shah tore into the Congress for criticising 'shastra puja' by Union Defence Minister Rajnath Singh while in France to receive the first Rafael fighter jet. Addressing election meetings at Pundri in Kaithal, Behl in Bhiwani and Meham in Rohtak, he alleged: "The Congress cannot think beyond dynasty. The BJP, on the other hand, has ended dynasty politics, corruption and favouritism."
At all three places, Shah harped on national issues, reaffirming that the BJP intends to fight these state elections on the narrative of nationalism, focusing entirely on national issues.
The Congress is already divided over abrogation of Article 370. Hooda, who earlier took a stand contrary to his party's, is calling it a non-issue since it has already been approved by Parliament. Shah again touched the issue of Article 370 in his speeches today. PM Narendra Modi is to address four rallies in Haryana. Besides Shah, UP CM Yogi Adityanath and BJP working president JP Nadda too will campaign in Haryana in the next 11 days.