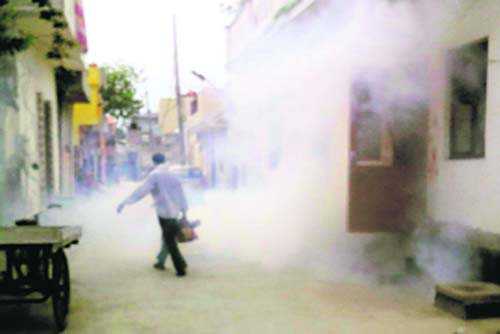 editorial@tribune.com
Bijendra Ahlawat
Tribune News Service
Faridabad, September 23
The number of dengue positive cases in the district has risen to 45. It is just two short of the total of 47 cases registered last year. The district had the highest number of dengue cases in 2013, when 450 cases was recorded.
Claiming the dengue epidemic was still under control, Dr Ram Bhagat, District Malaria Officer, said all precautions and measures were in place to provide treatment to the patients reporting high fever. He said though the total number of suspected cases, whose blood samples had been sent to labs, had touched 850, only 45 cases had been confirmed positive till date. While there were five patients admitted and undergoing treatment in the dengue ward of the Civil Hospital here, he said only one had been tested positive.
Meanwhile, health officials said the department had notified Rs 600 for the dengue test at all private hospitals. The patients have been asked to report the matter to the CMO office if any private hospital or clinic demands more than Rs 600 for the test.
Private hospitals had been charging double or triple the amount, it is stated. The authorities have released a number, 0129- 2415623, for registering complaints in this regard.
Sonepat MC intensifies fogging
Sonepat: After the Health Department, the Sonepat Municipal Corporation (MC) has also intensified fogging in Sonepat town and 27 villages have been included in the corporation to keep a check on the spread of dengue. Sonepat Deputy Commissioner Rajiv Ratan, who is holding the additional charge of the corporation Commissioner, said besides spraying kerosene in the village ponds, six fogging machines were being used to cover areas under the corporation. "We have deployed 393 safai karamcharis and the work of garbage lifting has been outsourced," he said, adding the intensive fogging would be continued up to September 30. —TNS
Cases on the rise in Sirsa district
Sirsa: Dengue continues to haunt Sirsa residents with the numbers of cases increasing daily. Sirsa Civil Surgeon Dr Suraj Bhan Kamboj said on Wednesday that the number of confirmed and suspected case of dengue in the district have reached 35 and 150, respectively. As many as 95 cases of malaria have also been witnessed in the district. Inquiries from private hospitals, however, revealed that the actual numbers of cases was much higher. Private doctors have also not revealed the numbers of cases they have treated so far. The state government had yesterday decided to debar private doctors from listing dengue infected patients unless the blood tests were conducted at government hospitals and confirmed the tests positive. Health Minister Anil Vij said there had been reports that a few private hospitals were spreading dengue scare to earn more money. The minister said the state government would soon issue a notification following which no private hospital would be allowed to claim a person to be dengue infected until it was confirmed by the Civil Hospital test reports. Dr HC Dahiya, a private physician at Fatehabad, said the state government should simplify procedures, so that private doctors could inform the numbers of dengue cases to the department. —TNS
43 teams formed
Bhiwani: After registering 47 positive cases of dengue in 15 days, the district administration has formed 43 rapid response teams to control the situation. They have been making rounds of urban and rural areas to keep a check on the prevailing situation. DC Saket Kumar said the administration was fully prepared to tackle the situation, as five fogging machines had been put to work to prevent the breeding of mosquitoes. Health Department officials said a special ward had been made in the wake of rising dengue cases. Meanwhile, Mukesh Kumar, a confectioner from Tosham, was taken to hospital after he developed severe body pain and was diagnosed with dengu symptoms. —TNS