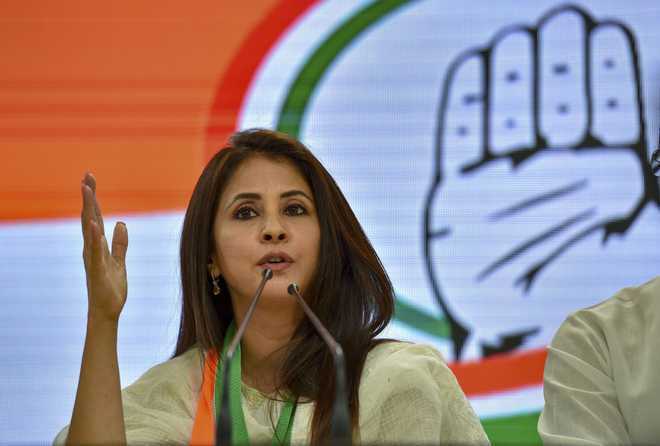 rchopra@tribunemail.com
Aditi Tandon
Tribune News Service
New Delhi, September 10
In escalating trouble for the Mumbai Congress, former Maharashtra minister Kripashankar Singh and actor-turned-politician Urmila Matondkar quit the party within a matter of hours of one another on Monday—a development that comes as the state heads into assembly elections.
Only six months after joining the Congress, actor Urmila Matondkar on Tuesday resigned from the party saying she was being used as a prop in the internal factional game of the Congress.
Urmila cited "petty in-house politics" in the Congress as a reason for her quitting the party.
"My political and social sensibilities refuse to allow vested interests in the party to use me as a mean to fight petty in-house politics instead of working on a bigger goal in Mumbai Congress," she said.
AICC Secretary in charge of Maharashtra Ashish Dua confirmed Matondkar's resignation.
Kripashankar Singh, a former chief of the Mumbai Congress, also quit on Tuesday saying he disagreed with the party's position on Kashmir.
Matondkar had unsuccessfully contested the 2019 Lok Sabha election from the North Mumbai seat. It was Matondkar's maiden contest and she was defeated by over 4.6 lakh votes by BJP veteran Gopal Shetty.
Matondkar had joined the party right on the eve of Lok Sabha polls.
Congress leaders appeared visibly miffed at the actor's impatience with some taking to Twitter to express their anxiety at the party leadership for giving "political tourists" more attention than loyalists.
Congress Leader CR Keshavan said, "People who have loyally stood by any party tend to get overlooked in favour of political tourists."
Another actor politician in Congress Khushboo Sundar agreed to Kesavan and wrote, "You and I are loyal fools."
Kripashankar Singh meanwhile told PTI that he will reveal his political stand at an "appropriate time" and added that he is not joining the BJP.
"I quit the Congress because I do not agree with the party stand to oppose abrogation of Article 370 in Jammu and Kashmir," he said.
He was formerly a minister in the Congress-NCP coalition government.
A Mumbai court discharged Singh in a disproportionate asset case last year for want of sanction to prosecute him. He had come under ED and CBI scanner in the case.
With PTI