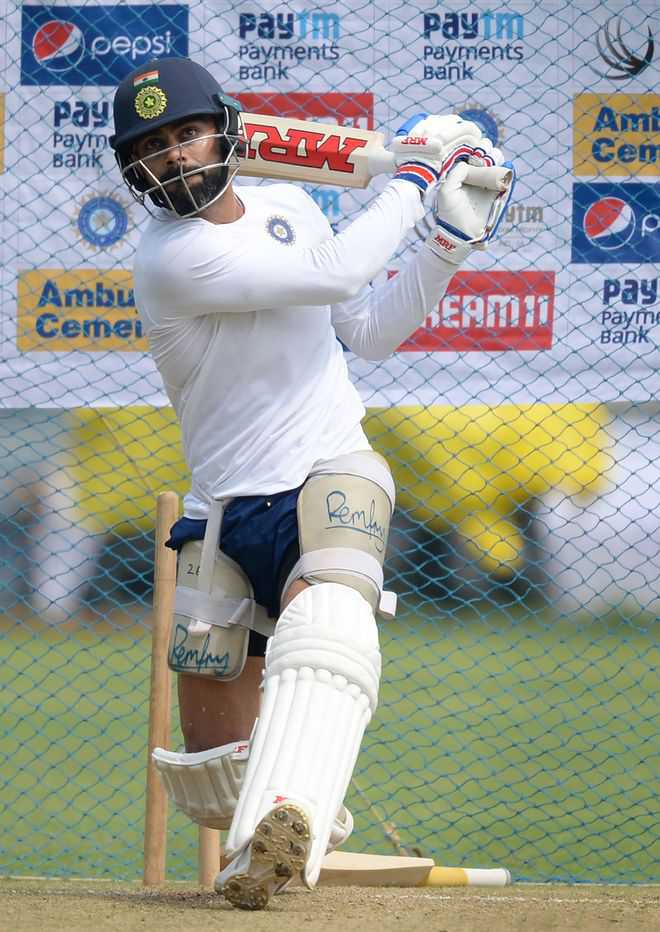 editorial@tribune.com
Pune, October 9
Improving on near-perfection would be India's aim while building on the small positives from a huge loss will be South Africa's focus when the two sides clash in the second Test, which starts here tomorrow.
Virat Kohli's men ticked almost all the boxes during their 203-run win in the opening encounter in Visakhapatnam, and they would be keen to maintain the intensity in their bid to seal the series here itself.
It is difficult to improve upon the Visakhapatnam show, but trust Kohli to find a new challenge for his team in the pursuit of excellence.
Rohit factor
The emergence of Rohit Sharma 2.0, with a blockbuster re-entry into the Test arena as an opener, was a calculated punt that worked wonderfully well for Kohli and head coach Ravi Shastri. With Mayank Agarwal also showing the ability to make every chance count, India's opening woes — at least in home conditions — seem to be over.
The heavy-duty batting line-up that also includes Kohli, Cheteshwar Pujara, Ajinkya Rahane and Hanuma Vihari would look to make a heftier contribution if the pitch at the Gahunje Stadium aids batsmen.
It was at this ground that the team endured its last batting collapse at home, against Australia in 2017 on a rank turner, when visiting spinners Nathan Lyon (5 wickets) and Steve O'Keefe (12 wickets) routed India.
It's unlikely that such a pitch would be provided for this Test, but if curator Pandurang Salgaonkar offers anything remotely close to it, India may well finish off South Africa in less than four days. Dean Elgar and Quinton de Kock showed a lot of character with their hundreds in the first innings at Visakhapatnam, but they would struggle to replicate those innings on a rank turner.
Tough at home
Ravichandran Ashwin, with a match haul of eight wickets, and Jadeja, with his all-round solidity, give this team a menacing look in home conditions. Mohammed Shami's mastery with the semi-new and old ball on dry tracks is slowly attaining legendary status. India would hope that Shami would remain injury-free, as he was seen hobbling on his run-up in the first innings in Visakhapatnam. Ishant Sharma was steady in Visakhapatnam, without being spectacular. India are unlikely to change their playing XI for the match, unless forced by an unforeseen injury.
South Africa, though, might be tempted to drop one between Senuran Muthusamy and Dane Piedt, who were taken to the cleaners by the Indian batsmen. Rohit was especially hard on them and hit a world record 13 sixes in the game.
If Piedt is dropped, the Proteas could be tempted to try Lungi Ngidi, who could make a difference with his pace and movement.
Have to be careful about Bumrah's workload: Shastri
Head coach Ravi Shastri has said that the Indian team needs to be careful about Jasprit Bumrah's workload management because the pacer plays in all three formats of the sport. "Very concerned. Because he is precious, special, different, and a match-winner. They are taking opinions on whether he needs surgery. We have to be careful about his workload because he plays all three formats," Shastri was quoted as saying. — Agencies
299 Runs and six wickets for Dean Elgar in India, this is more than any other South African players on the tour
23.57 Mohammed Shami's bowing average and strike-rate (46.0) in India are the best ever by an Indian fast bowler at home
25 Of the 33 Tests India have won when R Ashwin and Ravindra Jadeja have played together as compared to just 21 out of 54 for Anil Kumble and Harbhajan Singh. India have won 22 and lost only one out of 29 Tests Ashwin and Jadeja have played together at home. In comparison, India won 14 out of 34 with Kumble and Harbhajan in the playing XI
Top Stories