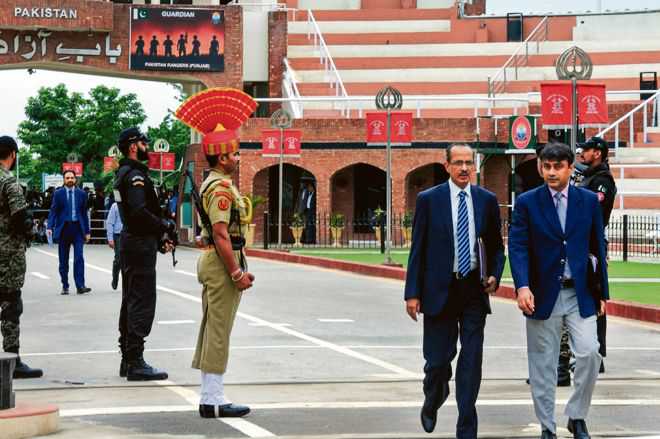 Shyam Saran
Shyam Saran
Former foreign secretary and senior fellow, centre for policy research
Pakistan PM Imran Khan is visiting Washington this week and the outcome bears close watch in India. We should be clear on some points. The recent, and apparently positive shifts in Pakistani position, including decline in cross-border terrorism against India, the arrest — again — of Lashkar-e-Taiba (LeT) chief Hafiz Saeed, the unconditional removal of the post-Balakot restrictions on overflights through Pakistan airspace, and the relatively accommodating stance on the opening of the Kartarpur corridor, all these are in the nature of tactical shifts in response to a changed domestic and external environment rather than a strategic change.
We have seen before how the cross-border terrorism tap can be opened or closed depending on the circumstances. The LeT chief has been arrested and released seven times in the past years. His symbiotic link with the Pakistan army is unlikely to change. The reopening of Pakistan's airspace may be explained by the fact that Pakistan was hurting financially as much as India and earning opprobrium in Western countries whose lucrative air services to India were being affected. The Kartarpur corridor, too, is a potential pressure point. If it is used to promote Sikh militancy, its closure by India may entail a political cost in Punjab. In foreign policy terms, there was no reason for India to countenance Pakistan's proposal on the corridor. It was reluctantly agreed to in view of the domestic political importance attached to Sikh sentiment in Punjab. The strategic calculus in Islamabad remains unchanged.
What changes in the domestic and external situation explain the tactical shifts referred to? Pakistan continues to be in dire financial straits, hovering at the edge of bankruptcy. The optimistic assumption that CPEC and the anticipated inflow of massive Chinese funds would be a 'game-changer' for Pakistan's economic fortunes has by now been mostly belied. The spectre of a 'debt-trap' now hangs over the country. Pakistan has been forced to seek yet another bailout from the IMF with onerous economic and political conditionalities. That Pakistan continues to be on the 'grey list' of the FATF because of its failure to deliver on assurances on ceasing support to terror groups would also have been a key consideration in Hafiz's arrest and the restraint on groups used for cross-border terrorism. Failure to act now would have jeopardised any prospect of obtaining the IMF bailout and avoiding crippling sanctions if blacklisted by the FATF. China has not proved to be the benefactor that the US had been in the past. The worsening of Pakistan's relations with the US, particularly under the Trump administration, has increased Chinese leverage over Pakistan, turning an often gentle embrace into a tightening squeeze. China has been pursuing better ties with India in response to its growing confrontation with the US, which means that Pakistan's role as an anti-India proxy has diminished somewhat — in degree, not in substance. Pakistan would have drawn uncomfortable conclusions from a Chinese vote in favour of the Indian position at the ICJ on the Jadhav case.
In these adverse circumstances what bargaining chip does Pakistan possess? It is its potential ability to help deliver a face-saving Afghan political settlement which would allow US troops to be withdrawn from what has been its longest war effort in history. Pakistan has used the Taliban against Afghanistan and US troops operating there in the same manner as it has used the LeT and the Jaish-e-Mohammad against India. A political settlement which gives the Taliban a place in Afghanistan's governing structure does not amount to its total victory which has been the objective, but that merely postpones the day when this will inevitably happen. Once the US troops have been withdrawn, the Taliban takeover, under Pakistani patronage, is only a question of time. What the US needs is only a decent interval before the inevitable happens. What we see playing out is Pakistan leveraging its Taliban bargaining chip to wriggle out of a difficult and even threatening situation. It will see its success in Afghanistan as a validation of its asymmetric warfare strategy. If temporarily shutting the tap on the eastern front opens up possibilities on the western front, it is a price worth paying. For Pakistan, a compliant regime in Kabul is a big prize, especially if this results in the rollback of the considerable influence India has built up in that country.
How should India respond to the emerging dynamics? There has to be a strategy of preserving our equities in Afghanistan and this may require much more significant support, including in military terms, to the existing political dispensation. Opening a channel for dialogue with the Taliban may be an option, although one doubts if this will alter its pro-Pakistan orientation. If Afghanistan threatens to re-emerge as a base for groups that will once again target India, there may be no option but to revert to a policy of destabilising a Taliban regime by helping consolidate and empower all anti-Taliban forces, much like the Northern Alliance in the past, but with a strong Pashtun component if possible.
Even though shifts in Pakistan's behaviour are tactical, there is no reason why India should not seek to take advantage of them. A virtual halt to cross-border terrorist activity creates favourable conditions for peace in Kashmir, but this requires a resumption of political processes in the Valley. Since Pakistan is delivering, at least for now, on its assurance on ceasing terrorism, this may be a good opportunity to revive the stalled bilateral dialogue, albeit with modest expectations on its outcome. This will improve India's room for manoeuvre and enable better management of its subcontinental periphery.
All readers are invited to post comments responsibly. Any messages with foul language or inciting hatred will be deleted. Comments with all capital letters will also be deleted. Readers are encouraged to flag the comments they feel are inappropriate. The views expressed in the Comments section are of the individuals writing the post. The Tribune does not endorse or support the views in these posts in any manner.
Cities