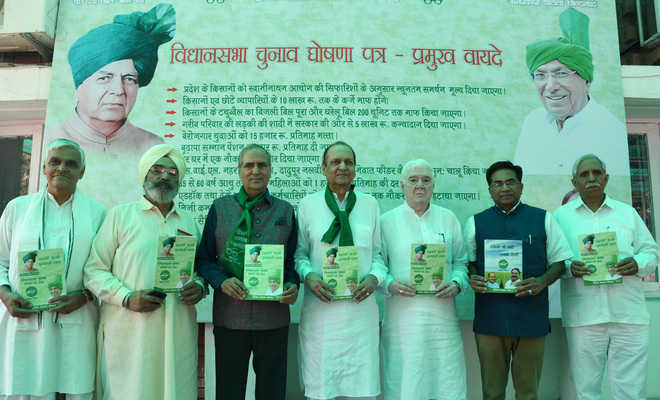 editorial@tribune.com
Tribune News Service
Chandigarh, October 12
The Indian National Lok Dal (INLD) on Saturday released its manifesto with promises of loan waiver for both farmers and small traders, reservation for local youth in the private sector, political reservation for backwards and a slew of benefits for women including job quota, free sanitary pads in villages and Scooty for students.
State president of INLD BD Dhalia released the manifesto today in the presence of national secretary general RS Choudhry and chairman of policy planning committee MS Malik. State secretary general Abhay Chautala was not present. For farm sector, besides waiver of farm loans of up to Rs 10 lakh, the party promised to complete the Sutlej-Yamuna Link (SYL) and Dadupur-Nalvi canal projects. If it comes to power, it will give Rs 5,000 per acre to farmers twice a year, provide free power for tubewells and implement the Swaminathan Commission recommendations. It will end the existing crop insurance scheme and set up a corpus for helping out farmers in case of crop failure.
On women empowerment, like the Congress, the INLD has also promised job quota of 33 per cent for women. The manifesto also has provision of social security allowance of Rs 1,000 for poor women in the age group of 35-60 years, free sanitary pads to rural women and help of Rs 5 lakh to poor girls on marriage.
For youth too, like the Congress' manifesto, the party has promised to provide a job to every family and 75 per cent reservation for local youth in the private sector. But its manifesto has higher provision of unemployment allowance at Rs 15,000 per month, free bus ride to students going out of their village for education and for taking entrance exams and free Scooty to women students after class XII.
The manifesto promised Rs 100 per day to senior citizens, physically challenged, transgenders and widows. Old-age pension will be revised to Rs 5,000 per month. At present, it is Rs 2,000. It will press for provision of political reservation to backward classes from panchayats to Lok Sabha and would provide at least Rs 18,000 per month salary to safai karamcharis and watchmen in rural areas.
At present, there is provision of Rs 6 crore to a sportsperson for gold medal in Olympics, Rs 4 crore for silver and Rs 2.5 crore for bronze. The INLD has promised to enhance it to Rs 11 crore for gold, Rs 8 crore for silver and Rs 5 crore for bronze.
Wooing the employees, the party promised to allow contractual employees to work till 58 years and to implement all the recommendations of the 7th Pay Commission. It has called for including Haryanvi language in the 8th Schedule of the Constitution.