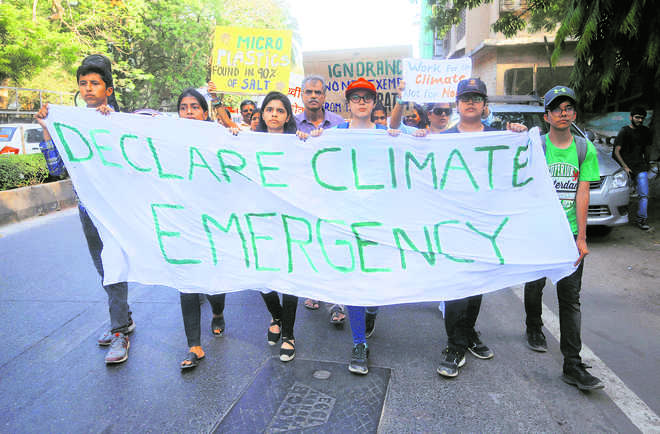 laxmi@tribune.com
CLIMATE is changing at an accelerated pace. And the consequences are being felt around the world with increased frequency, intensity and duration of heat-related phenomena, droughts and environmental disasters. July 2019 was the hottest month ever recorded on earth; the prolonged heat wave in Europe, deadly wildfires in Greece and western US, and devastating floods across Asia are some examples of the impact of climate change or extreme weather events. More such disasters are likely to happen if necessary action is not taken urgently.
The greenhouse gas emissions and resulting global warming are also affecting our land, food crops and nutrition levels. Conversely, agriculture and forestry are responsible for nearly one-fourth of all greenhouse gas emissions.
According to a high-level report commissioned by the United Nations, "efforts to curb greenhouse emissions and impacts of climate change will fall significantly short without drastic changes in global land use, agriculture and human diets."
The report, 'Climate Change and Land', prepared by the Intergovernmental Panel on Climate Change (IPCC), was released on August 8. It highlights opportunities for mitigating and adapting to climate change, which today is a defining issue globally. Compiled by more than 100 scientists — 53% of whom are from developing countries — it lays stress, among various measures, on plant-based diets and a policy recommendation to reduce meat consumption.
The findings of the report will be a critical scientific input for the forthcoming climate and environmental negotiations such as the Conference of the Parties of the UN Convention to Combat Desertification to be held in New Delhi in September and the UN Framework Convention on Climate Change Conference in Santiago (Chile) in December.
People, land and climate
The report takes a comprehensive look at the land-climate system. Since land is a critical resource for human survival, providing the principal basis for human livelihood and well-being, the findings are also intricately linked with issues of food security, biodiversity and land degradation.
Land is both 'a source and a sink' of greenhouse gases. Therefore, sustainable land management can contribute to reducing the negative impacts of climate change on the ecosystem and societies. "Land plays an important role in the climate system," says Jim Skea, Co-Chair of the IPCC Working Group III. "Agriculture, forestry and other types of land use account for 23% of human greenhouse gas emissions. At the same time, natural land processes absorb carbon dioxide equivalent to almost a third of carbon dioxide emissions from fossil fuels and industry," he adds.
The world population continues to grow unabated. To feed the growing population, expanded use of areas under agriculture and forestry has occurred, resulting in increased food productivity. The studies show that the per capita supply of vegetable oils and meat has more than doubled since 1961. These changes in expanded land use, associated with changes in food consumption patterns, have contributed to an increase in greenhouse emissions. Changing food habits are associated with human health; about 2 billion adults are obese or overweight, while nearly 10% of the world's population or an estimated 821 million are still malnourished.
According to the IPCC report, climate change has exacerbated land degradation in many areas. For example, the areas facing drought are increasing by 1 per cent per year and about 500 million people live in areas experiencing desertification. The highest numbers affected live in South and East Asia. Land areas and sea-surface temperatures have been increasing over the years, but the deforested land is likely to be even hotter, thereby adding to global warming.
The IPCC warns that rapid deforestation and desertification will exacerbate water scarcity and food supply disruption and shortages. There is an urgent need to introduce and scale up sustainable land management and farm practices, including soil conservation in the short term and sustainable land management and reforestation on a long-term basis.
The consequences of land degradation tend to vary from region to region. Asia and Africa are projected to be most vulnerable to increasing desertification, North America and Mediterranean to wildfires, and the tropical areas to crop yield decline.
The greatest impact of these extreme events and changes in climate will be felt by women, the very young, the elderly and the poor, who are at risk the most. Such changes in climate can amplify environmentally induced migration within countries and across borders, leading to population displacement and urbanisation.
At the individual level, it is important to realise that what we eat also has an impact on climate change. In general, meat such as beef and lamb have the biggest climate footprint per gram of protein, while plant-based foods such as pulses, grains, soya, legumes and nuts tend to have a lower impact. These, therefore, offer the most climate-friendly food options.
An environmental effect associated with meat production is pollution through the release of methane by ruminating cattle — 20 times more harmful than carbon dioxide, effluent waste, and water and land consumption. A new study has found that the environmental impact of beef production is significantly worse than that of dairy, poultry, pork and eggs. Animal husbandry is responsible globally for more greenhouse gases than the world's transportation systems combined.
Turning vegetarian or eating no/less meat makes sense in the context of climate change. "We don't want to tell people what to eat," says Hans-Otto Pörtner, an ecologist who co-chairs the IPCC's working group on impacts, adaptation and vulnerability. "But it would indeed be beneficial, for both climate and human health, if people in many rich countries consumed less meat, and if politics would create appropriate incentives to that effect."
Adaptation, mitigation response options
The IPCC report lists response options for mitigating and adaptation, including sustainable food production, improved and sustainable forest management, soil organic carbon management, ecosystem conservation and land restoration, reduced deforestation and degradation, and reduced food loss and waste.
While some options have immediate impact, others will take years to have measurable results. Those that will have immediate impacts include the conservation of high-carbon ecosystems such as wetlands, mangroves and forests. Examples of those taking more time to deliver include afforestation and reforestation as well as the restoration of high-carbon ecosystems. Most of these response options, including dietary choices, reduced post-harvest losses, reduced food waste and risk management, can also contribute to eradicating poverty and eliminating hunger while promoting good health and well-being, the report suggests.
Protecting and restoring forests and better management of land for forestry and agriculture can not only lift millions of people out of poverty, but also create jobs and add to the global economy. Land management options can reduce vulnerability to soil erosion, landslides and nutrient loss. Such measures also provide cost-effective benefits to communities and support Sustainable Development Goals (SDGs).
Measures adopted for combating desertification can contribute to climate change adaptation and mitigation, with sustainable development co-benefits to society. For example, planting as many trees as possible can reverse deforestation, enhance climate resilience, and remove carbon dioxide from the atmosphere. Avoiding, reducing and reversing desertification would enhance soil fertility, increase carbon storage in soils and biomass, while benefiting agricultural productivity and food security.
In the area of food systems from farm to plate, the IPCC response options include adopting balanced diets, featuring plant-based foods, such as those based on coarse grains, legumes, fruits and vegetables, nuts and seeds. Along with a low-carbon emission systems, these present major opportunities for adaptation and mitigation while generating significant co-benefits in terms of human health.
Today, 25-30% of the total food produced is lost or wasted. Scientists observed that during 2010-16, global food loss and waste contributed 8-10% to the total anthropogenic GHG emissions. Reduction of food loss and waste can lower GHG emissions and aid adaptation through reduction in the land area needed for food production.
In developing countries, in particular, promoting access to and use of cleaner energy technologies could greatly contribute to adaptation and mitigating climate change and also for combating desertification and forest degradation. Renewable energy can today be delivered at a far lower cost than the fossil-fuel-driven methods. Solar and onshore wind are now the cheapest sources of new power in virtually all major economies. But such technologies are not often available in developing countries and given that climate change is a global issue, the transfer of such technologies requires healthy cooperation among all countries in the spirit of the common and shared goal of combating climate change.
Global challenge
Climate change is a global challenge that does not recognise national boundaries. Emissions anywhere affect people everywhere. The climate response requires a coordinated action at the international level, especially to help developing countries move towards a low-carbon economy.
While adopting the Paris Agreement at COP21 in December 2015, all countries agreed to work towards the 2030 agenda — to limit the global temperature rise to well below 2ºC and to strive for 1.5ºC rise by 2030. Effective implementation of the Paris Agreement is essential for achieving the SDGs. The data presented by the IPCC in its assessment reports indicates that climate change is an unprecedented crisis for humanity, but the severity is not matched by the action from various governments.
Calling for global action on climate change, Antonio Guterres, UN Secretary-General, said recently that "climate change is the defining issue of our time." "While we have the tools that are effective, we lack the leadership and the ambition to do what is needed. Every day that passes means the world heats up a little more and the cost of our inaction mounts," he lamented.
The special IPCC report reiterates the Secretary-General's urgency and calls for urgent action to limit climate change and its negative impacts. The report calls for appropriate policies and stronger institutions and governance systems at all levels of the government that can contribute to land-related adaptation and mitigation. We need mutually supportive climate and land policies that have the potential to save resources, amplify climate resilience, safeguard ecology, and foster engagement and collaboration between stakeholders. Implementing these policies across the food system can reduce food loss and wastage and influence dietary choices, enable more sustainable land-use management, enhanced food security and low greenhouse gas emissions. Such policies can go a long way in helping to reduce land degradation, desertification and poverty as well as improve public health.
The report makes it clear that while better land management can help in tackling climate change, it is not the only solution. Reducing greenhouse emissions requires all sectors to contribute fully if climate change or the global warming is to be kept to well below 2°C, if not 1.5°C.
Coordinated multisectoral action is needed to address climate change which can improve land, food security and nutrition and help to end hunger in the world. Measures are needed to ensure food security by arresting the decline in crop yield, price increase and supply disruptions. The role to be played by the government, the businesses, the scientific community and people at large cannot be underestimated and all must be fully engaged.
The decision-making and governance can be more effective only when local stakeholders (particularly those most vulnerable to climate change, including indigenous people, local communities, women, the poor and the marginalised) are involved in the selection, evaluation, implementation and monitoring of policy instruments for land-based climate change adaptation and mitigation.
---
Global climate goals
Limit temperature rise to 1.5ºC above the pre-industrial level to avoid worst impacts of climate change
Cut greenhouse gas emissions by 45% by 2030
Carbon neutrality by 2050
---
Observed or projected impact of climate change
Agriculture
Increased frequency and severity of crop disease
Increased soil erosion
Losses in agricultural production and crop yield due to extreme weather
Forestry
Increase or projected increase in forest fires
Changes in the distribution of forest species
Biodiversity
Changes in the timing and duration of growing seasons
Changes in the distribution pattern of various species
Species' endangerment and extinction
Water
Changes in water distribution
Reduced water availability and quality
Health
Hunger and malnutrition due to increased food insecurity
Increase in water-borne diseases such as diarrhoea due to water scarcity
Increase in vector-borne diseases such as malaria due to higher temperatures
Mortality and morbidity due to extreme events
---
Where India stands
India is third highest emitter of carbon dioxide; responsible for 6.9% of global emissions
India has committed to reducing the emission intensity of its GDP by 20-25% from the 2005 levels by 2020 and by 33-35% by 2030
Emission intensity of GDP fell by 12% during 2005-10.
The author is former Regional Adviser & Director (South-East Asia), World Health Organisation
Please email your feedback at infocus@tribunemail.com