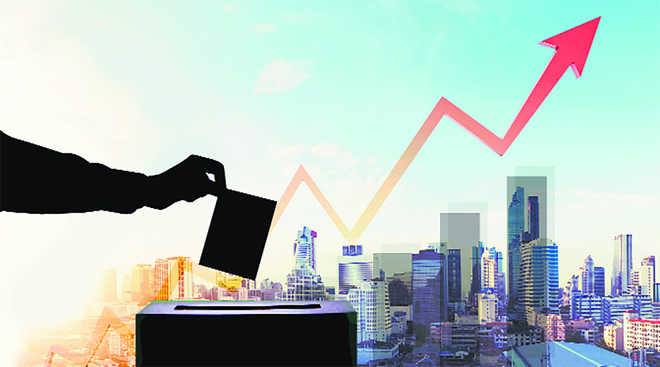 rajivbhatia82@gmail.com
Vinod Behl
Thanks to the upcoming parliamentary elections, the Centre and the ruling party governments in Delhi and its periphery are on a project launching spree. Though the projects are populist in nature, these will surely have an impact on the real estate fortunes of key areas in the NCR.
The government largesse for infrastructure and real estate started with ther interim budget presented in February. And now with an eye on the polls, the ruling party governments in Centre and in other states are making announcements regarding development projects before model code becomes applicable.
Working on connectivity
Just last week Prime Minister Narendra Modi laid the foundation stone for the Rs 30,000-crore Meerut-Ghaziabad Rapid Rail Project. This is a part of Centre's ambitious transportation plan to form eight corridors in order to decongest the NCR.
The Centre will bear Rs 6,464 crore of the total project cost, with Uttar Pradesh and Delhi governments contributing Rs 6,237 crore and Rs 1,216 crore, respectively. Union Road Transport Minister, Nitin Gadkari laid the foundation stone of Rs 90,000-crore Delhi-Vadodara-Mumbai access-controlled expressway. This greenfield expressway is set to provide a major connectivity boost to properties along the 1320 km route.
Another mega project to boost connectivity of the NCR that has been inaugurated by the Prime Minister is the Regional Air Service to connect eight airports from Hindon. The Airports Authority of India has constructed a civilian terminal at Hindon at a cost of Rs 45.2 crore. Civil flight operations and regional flights on routes, including Lucknow-Hindon-Kolkata-Jorhat, Hindon-Bhopal-Nasik, Hindon-Jaisalmer-Udaipur, Hindon-Gorakhpur-Allahabad, Hindon-Allahabad-Kolkata, Hindon-Kannur, Nasik-Hindon, Tirupati-Hubli-Hindon are likely to commence before the elections.
The Centre has already inaugurated the major infrastructure project of Dhaula Kuan flyover to ease connectivity to the Indira Gandhi International Airport, in the first week of March. This is a part of the eight-lane signal free corridor to the airport being undertaken by the National Highway Authority of India at an estimated cost of Rs 270 crore.
In another bonanza for Delhites, DDA is offering 18,000 flats under its new housing scheme. DDA has also improved upon its old scheme. Now under the new scheme people who own DDA flats can apply, but there is a size restriction of 67 sq mts. DDA has also given relief by scrapping the five-year lock in period except for the EWS category.
The operations of Delhi Metro Blue Line Extension from Noida City Centre to Electronic City Metro Station are also expected to start before elections. The Blue Line Extension, part of DMRC's Phase 3 project of Dwarka Sector 21-Noida City Centre route, will be extended beyond Sectors 34, 52, 61, 59, 62 and Electronic City stations. The 6.7-km elevated corridor will provide a crucial link to the Noida Metro Rail Corporation's Acqua line. This corridor will provide a major boost to many residential areas in Sectors 34, 52 and 22 besides commercial areas between Sector 59 and Electronic City. It will also benefit commuters from Ghaziabad and Noida's Sector 62 to travel to Noida and Greater Noida.
Haryana follows
With an eye on elections, Haryana government, too, has put road and metro rail projects on its poll platter. After a long delay by the state government, the DPR of Gurugram Metro linking Huda City Centre with Dwarka Expressway was readied and submitted to Haryana Mass Rapid Transport Corporation (HMRTC), for implementation. Haryana Chief Minister, Manohar Lal Khattar has inaugurated Huda City Centre Redevelopment Project as per his poll promise. The project, to be undertaken at a cost of Rs 52.52 crore , includes two underpasses, one bi-directional flyover, two foot over bridges, traffic management measures besides landscaping. Roads worth Rs 54.33 crore will be laid by GMDA in new sectors — 68, 69, 70, 70A, 75, 77, 78, 79, 79A, 88A,88B, 89A and 89B. These roads will provide major connectivity boost to real estate in New Gurgaon. The state government has also approved the construction work of eight roads at a cost of Rs 30 crore to improve connectivity between 13 villages. The state government has also amended the Haryana Building Code 2017 by enhancing ground coverage and floor area ratio for plot holders. For plot area ranging between 60-450 sq mt and above, max ground coverage of 85 per cent and maximum FAR of 220 per cent has been allowed.
Kejriwal government in Delhi too, is not far behind in offering poll sops. It gave a go ahead to NHAI to start work on Dwarka Expressway falling in Delhi area. The work on the 10 km portion had been in a limbo for two years.
Top Stories