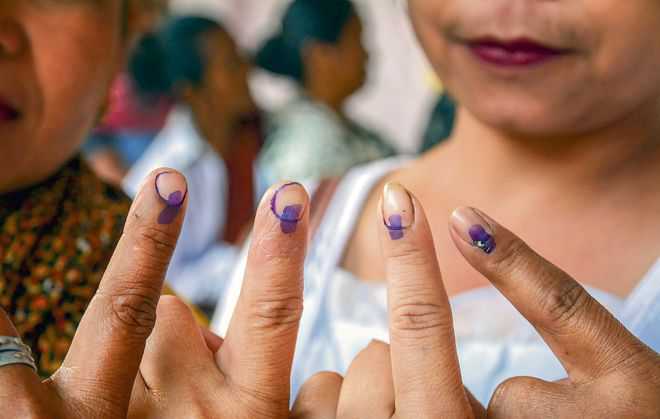 Shyam Saran
Shyam Saran
Former foreign secretary and senior fellow, centre for policy research
Elections are indispensable to a democracy but are not sufficient for its sustenance. We should proudly celebrate the fact that India is holding its 17th General Election in its 72-year history as a republic. It is awesome to witness nearly 900 million voters exercising their franchise and holding the key to the fate of those who seek the privilege to serve them. But the country's success in upholding democratic rights of its citizens owes as much to a broad political consensus on upholding the Constitution, respecting strong and independent institutions and processes based on it and ensuring the rule of law.
It is in this latter aspect that there is cause for deep concern. The fierce competition for votes and political power is becoming increasingly no-holds-barred, where the sanctity of institutions and constitutionally empowered authorities is being systematically undermined. We are witnessing the rampant politicisation of virtually every arm of the state and the partisan use of the state machinery in pursuit of political and ideological ends. Even if elections continue to be held in the future, the corrosion of institutions and deflections from the Constitution would leave India's democracy severely undermined. There is a danger that it may eventually become an empty shell.
During the election campaign, there have been blatant violations of the model code and yet the Election Commission remains reluctant to call out the offenders. Senior leaders of the ruling party have been making openly communal statements with barely a rap on their knuckles. One openly threatens Muslims in her constituency that if they do not vote for her she will retaliate by depriving them of access to jobs and benefits. The UP Chief Minister says proudly that his party stands for Bajrangbali while the Opposition stands for Ali. Sadhvi Pragya Thakur, who stands accused of acts of terrorism and is brazenly communal, is the ruling party's candidate for Bhopal. She celebrated the announcement of her candidature by insulting the memory of a brave police officer who sacrificed his life defending India's citizens from a terrorist attack. She even owned up proudly to having participated in the infamous and criminal demolition of the Babri Masjid in 1992. And yet her candidature is defended by the Prime Minister himself. There is grave danger in the cynical politicisation of the armed forces. This has led several armed forces' veterans to address a joint letter to the President expressing their disquiet. The use of electoral bonds for political financing has made even more intimate the nexus between big business and politics but parties remain silent on what is the very anti-thesis of democratic choice. It is ominous to hear the Home Minister say that if back in power, his party will further strengthen the infamous colonial era sedition law and that this would send shivers down the spine of potential offenders. National security cannot become a tool to threaten one's citizens or to brand dissent as anti-nationalism.
Those who value India's democracy and the precious freedoms which its citizens enjoy should reflect on the direction in which the country seems headed. Let us be clear that no overarching Hindu unity can be built on a Hindu-Muslim binary. The attempt to put Muslims and non-Hindus into a lower category of second-class citizens would be antithetical to the very idea of a democracy of equal citizens. Once polarisation is unleashed it will spread according to its own dynamic. Its claim to legitimacy cannot be confined to one category alone but will spawn many other claims to exclusive identities, based on caste, creed, language and ethnicity. India's democracy can only be plural and inclusive. A monochromatic political dispensation is not compatible with democracy.
It would appear that the image of a tough state and a strong and decisive political leadership resonates with a significant part of the Indian electorate. A country with deep political divisions and at war with itself cannot be a strong and effective state. In a democracy, moreover, a strong and decisive leadership should never be equated with its capacity to instil fear and suspicion among its own citizens, but rather with its ability to inspire a sense of security, comfort and well-being among them. Leadership in a democratic state must be humane and compassionate rather than one which shows its fists all the time.
The world is in the midst of an unprecedented and fundamental transition and this is throwing up major challenges but also significant opportunities for India. There needs to be a broad political consensus to enable the country to leverage opportunities and overcome challenges. Despite the upsurge in narrow nationalism and parochial politics, globalisation will continue to advance since it is driven by technology. India is able to negotiate globalisation more successfully, precisely because of its success in managing a highly diverse and plural society. There is an inherent spirit of cosmopolitanism among its people, which is what is needed in an intensely inter-connected world. India's place in the world will be determined not by its displays of muscularity but by its relevance and contribution to the resolution of the major cross-national and global issues of our times, such as eradication of poverty, climate change, terrorism and cyber security. Having demonstrated its ability to shoot down a satellite, India would be better respected for its leading role in the framing of an international agreement on the safety of space-based assets. How Indians relate to one another influences how the country handles relations with other states. A shrinking vision at home cannot sustain an expansive vision abroad.
All readers are invited to post comments responsibly. Any messages with foul language or inciting hatred will be deleted. Comments with all capital letters will also be deleted. Readers are encouraged to flag the comments they feel are inappropriate. The views expressed in the Comments section are of the individuals writing the post. The Tribune does not endorse or support the views in these posts in any manner.
Top Stories