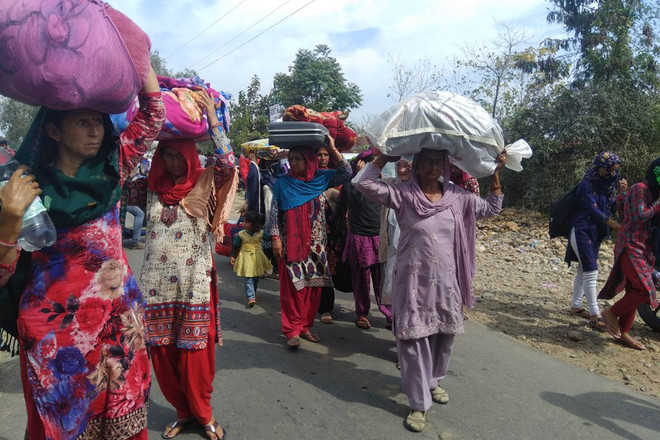 Arteev Sharma & Sanjay Pathak
Tribune News Service
Jammu/Kathua, February 27
The alleged rape and murder of an eight-year-old girl in Kathua today turned murkier when fear-stricken villagers belonging to the Hindu community from Rasana village migrated for "safety", alleging "torture and harassment" of their children by the Crime Branch of the J&K Police which is conducting the investigation into the case.
Local villagers, including women and young children, said they were living under "constant fear" due to "random detention of young children" in the name of questioning and refused to return to their native village. Hundreds of people of adjoining villages joined them to express solidarity with them.
"All the families of Rasana village and many families from the adjoining Dhamyal village have migrated to Kootah on the Jammu-Pathankot highway as they have been living under constant fear of torture and harassment of their children by the Crime Branch. There is total anarchy in the area and nothing is happening as per democratic norms," said Vijay Sharma, president of the Hindu Ekta Manch, who met the migrated villagers.
He said the "illegal detention" of young children for questioning had caused a fear psychosis among the villagers. Vijay Sharma said, "We never supported the accused and will not do it in future but there should be a fair investigation to restore people's faith in the administrative set up. Why are the Crime Branch people more interesting in giving hearing to only one viewpoint? Why are they more interested in implicating the youth in false cases and fabricating evidence against them? This is a part of a bigger communal game plan. Let the probe be handed over to the CBI and it will be crystal clear as to who is guilty and who is innocent."
The body of the minor girl from the Bakerwal community was found from a forest area in Rasana village on January 17. Three persons, including two Special Police Officers and a juvenile, have been arrested so far.
According to villagers, 24-year-old youth Vikram Singh was detained by the Crime Branch for questioning last night while a Class XI student Parvesh Kumar was called for questioning twice. "Besides, an elderly person Mukhtiar Ahmed and his son are being pressurised to record their statements on the dictation prepared by the Crime Branch. Where do we go when the police and administration are working under such political pressure," a villager said.
A girl student said, "We are being harassed on a daily basis. The board exams for Classes X and XII have already begun. Our studies have been badly affected. The Chief Minister has herself politicised the matter for vote bank politics while BJP ministers have succumbed before the PDP for the lust of power."
When contacted, Alok Puri, Additional Director General of Police, Crime Branch, said it was a part of investigation to call people for questioning. "We have arrested only three people so far. No other person has been detained."
BJP demands CBI probe
After maintaining silence over allegations of local people that the Crime Branch had indulged into witch-hunting to intimidate members of a particular community, the BJP on Tuesday came out in support of Hiranagar residents. "What is wrong in allowing the CBI to conduct the inquiry," asked BJP state general secretary (organisation) Ashok Koul, adding, "Locals have raised doubts over the investigation of the Crime Branch. The government must accept the demand of a CBI probe to restore people's faith".
Top News
The decision amounts to creating a parallel jurisdiction, ta...
The school authorities immediately alerted police, which rea...
'In Punjab, Rs 11 is considered a 'shagun', so I am announci...
Bhardwaj said the Board does not calculate, declare or infor...