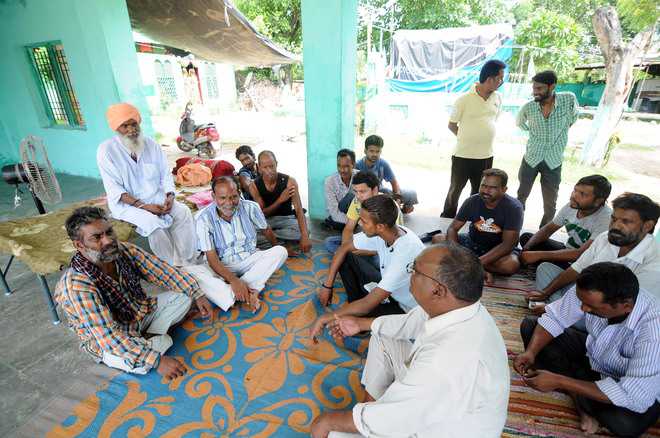 Dinesh Manhotra
Tribune News Service
Jammu, August 5
Amid debate on Article 35A, 636 Dalit families living in different parts of Jammu city have pinned hopes on the Supreme Court for justice. They say politicians never solve their humanitarian issue due to politics of "competitive separatism and ultra-nationalism".
Living in Jammu since 1957, these Dalit families are the worst victims of Article 35A as they are still tagged as non-permanent residents. This tag deprives them of all constitutional and human rights, which other residents of J&K are enjoying.
"In the modern world where people speaks about equality and parity, our third generation is living in slavery because we have no other option but to work as sweepers in the J&K government sector," said Garu Bhatti, president of Valmiki Samaj. He said instead of solving their humanitarian issue, politicians were brazenly indulging in whipping up peoples' sentiments.
"As the supporters and opponents of Article 35A are seizing all opportunities to politicise the issue, we think we will become victims of politics once again," said Bhatti.
"Amid pandemonium by supporters and opponents of Article 35A, our voice would remain unheard because humanitarian aspects are ignored in competitive politics," said Eklavya, a Valimiki youth and one of the petitioners in the SC against the constitutional validity of the article.
As these Dalits families are denied permanent resident certificates, their children are debarred from claiming government job in the state. They are entitled to only the job of sweepers in J&K.
Mull raising issue on international forums
A group of Dalits from Jammu is mulling to approach the International Court of Justice to have them "liberated from the yoke of the worst slavery ever". The group feels that due to caste prejudice, the political class is not taking a clear stand on Article 35A, which denies citizenship rights to them in J&K. "We are in touch with our community members settled abroad to take up our plight at international forums to educate the world about the discrimination we are facing in J&K," said Eklavya, a Dalit youth and a petitioner in the Supreme Court. Meanwhile, West Pakistan Refugees have also announced to support the Dalits in case they approach international forums for justice. TNS